The Dallas Federal Reserve Bank highlights the impact of continuing declines in oil prices in their latest monthly Texas Manufacturing Outlook Survey:
Texas factory activity fell sharply in January, according to business executives responding to the Texas Manufacturing Outlook Survey. The production index—a key measure of state manufacturing conditions—dropped 23 points, from 12.7 to -10.2, suggesting output declined this month after growing throughout fourth quarter 2015.
Other indexes of current manufacturing activity also indicated contraction in January. The survey's demand measures—the new orders index and the growth rate of orders index—led the falloff in production with negative readings last month, and these indexes pushed further negative in January. The new orders index edged down to -9.2, and the growth rate of orders index fell to -17.5, its lowest level in a year. The capacity utilization index fell 15 points from 8.1 to -7, and the shipments index also posted a double-digit decline into negative territory, coming in at -11.
Perceptions of broader business conditions weakened markedly in January. The general business activity and company outlook indexes fell to their lowest readings since April 2009, when Texas was in recession. The general business activity index fell 13 points to -34.6, and the company outlook index slipped to -19.5.
Here is a chart showing the Texas monthly manufacturing index.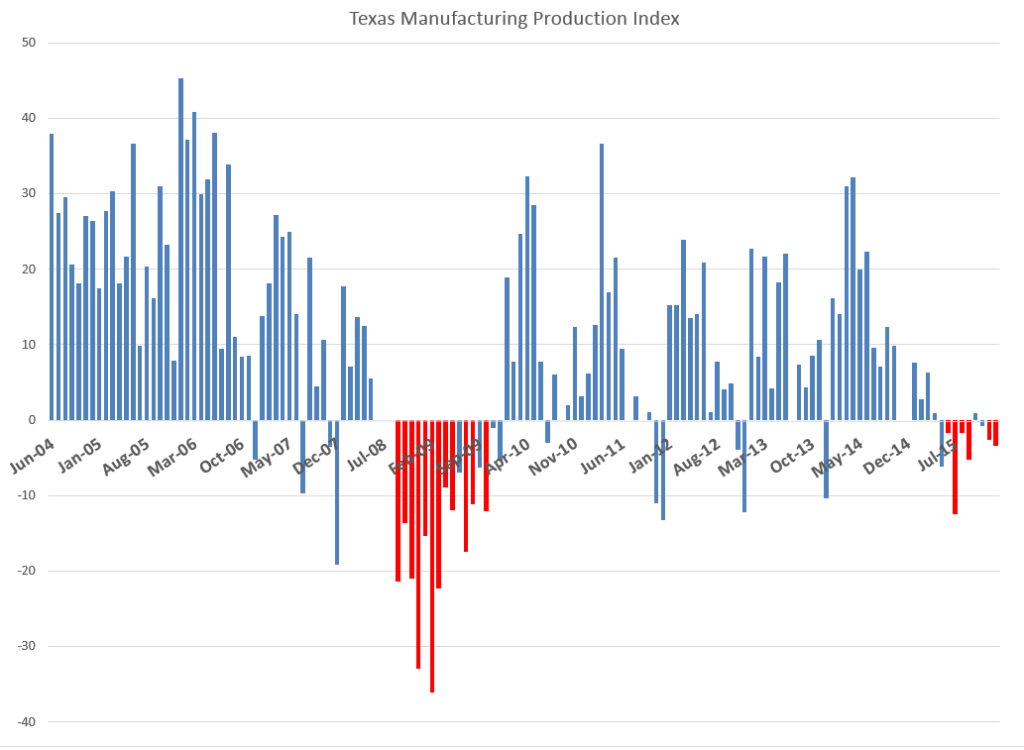 The logical follow-on question is raised by James Hamilton – Can lower oil prices cause a recession?
Hamilton cites an NBER (National Bureau of Economic Research) paper – Geographic Dispersion of Economic Shocks: Evidence from the Fracking Revolution – which estimates jobs from fracking (hydraulic fracturing of oil deposits) resulted in more than 700,000 US jobs 2008-2009, resulting in an 0.5 percent decrease in the unemployment rate during that dire time.
Obviously, the whole thing works in reverse, too.
Eight states with a high concentration of energy-related jobs – including Texas and North Dakota – have experienced major impacts in terms of employment and tax revenues. See "Plunging oil prices: a boost for the U.S. economy, a jolt for Texas".
Another question is how long can US-based producers hold out financially, as the price of crude continues to spiral down? See Half of U.S. Fracking Industry Could Go Bankrupt as Oil Prices Continue to Fall.
I've seen some talk that problems in the oil patch may play a role analogous to sub-prime mortgages during the last economic contraction.
In terms of geopolitics, there is evidence the Saudi's, who dominate OPEC, triggered the price decline by refusing to limit production from their fields.