Well, readers here may have noticed, Business Forecast Blog correctly predicted the OPEC decision about reducing oil production at their Thanksgiving Thursday (November 27) meeting in Vienna.
VIENNA — Crude prices plunged Thursday after the powerful Organization of Petroleum Exporting Countries said it wouldn't cut production levels to stem the collapse in oil prices that have fallen 40% since June.
Saudi Arabia's oil minister Ali Al-Naimi delivered the news as he left a nearly five-hour meeting of the cartel's 12 oil ministers here.
Our post was called The Limits of OPEC and was studded with passages of deep foresight, such as
I'm kind of a contrarian here. I think the sound and fury about this Vienna meeting on Thanksgiving may signify very little in terms of oil prices – unless global (and especially Chinese) economic growth picks up. As the dominant OPEC producer, Saudi Arabia may have market power, but, otherwise, there is little evidence OPEC functions as a cartel. It's hard to see, also, that the Saudi's would unilaterally reduce their output only to see higher oil prices support US frackers continuing to increase their production levels at current rates.
The immediate response to the much-anticipated OPEC meeting was a plunge in the spot price of West Texas Intermediate (WTI) to below $70 a barrel.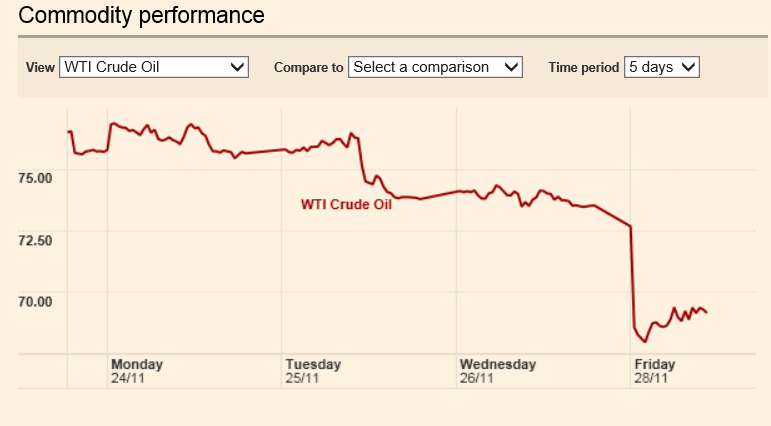 Brent, the other pricing standard, fared a little better, but dropped significantly,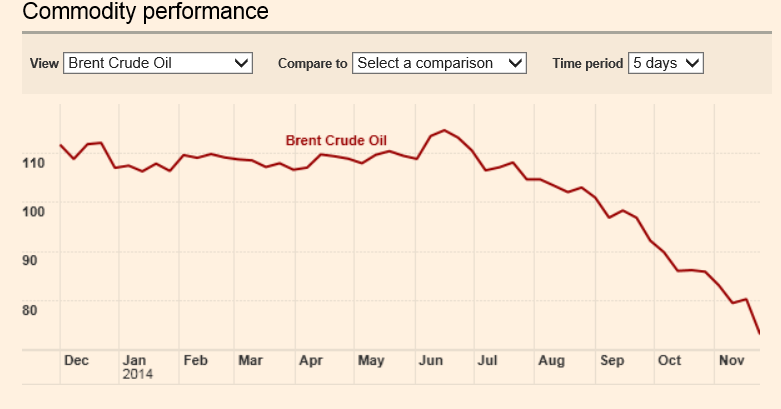 Both charts are courtesy of the Financial Times of London.
The Reuters article on the OPEC decision – Saudis block OPEC output cut, sending oil price plunging – is full of talk that letting prices drift lower, perhaps down to $60-65 a barrel, is motivated by a desire to wing higher-cost US producers, and also, maybe, to squeeze Russia and Iran – other players who are out of favor with Saudi Arabia and other Gulf oil states.
Forecasting Issues and Techniques
Advice – get the data, get the facts. Survey Bloomberg and other media by relevant news story and topic, but whenever possible, go to the source.
For example, lower oil prices may mean Saudi Arabia and some other Gulf oil states have to rely more on accumulated foreign exchange to pay their bills, since their lavish life-styles probably adjusted to higher prices (even though raw production costs may be as low as $25 a barrel). Just how big are these currency reserves, and can we watch them being drawn down? There is another OPEC meeting apparently scheduled for June 2015
Lead picture of Saudi Oil Minister from Yahoo.