Data Science and Predictive Analytics
Data Scientists Predict Oscar® Winners Again; Social Media May Love Leo, But Data Says "No"
..the data shows that Matthew McConaughey will win best actor for his role in the movie Dallas Buyers Guide; Alfonso Cuaron will win best director for the movie Gravity; and 12 Months a Slave will win the coveted prize for best picture – which is the closest among all the races. The awards will not be a clean sweep for any particular picture, although the other award winners are expected to be Jared Leto for best supporting actor in Dallas Buyers Club; Cate Blanchet for best actress in Blue Jasmine; and Lupita Nyong'o for best supporting actress in 12 Years a Slave.
10 Most Influential Analytics Leaders in India
Pankaj Kulshreshtha – Business Leader, Analytics & Research at Genpact
Rohit Tandon – Vice President, Strategy WW Head of HP Global Analytics
Sameer Dhanrajani – Business Leader, Cognizant Analytics
Srikanth Velamakanni – Co founder and Chief Executive Officer at Fractal Analytics
Pankaj Rai – Director, Global Analytics at Dell
Amit Khanna – Partner at KPMG
Ashish Singru – Director eBay India Analytics Center
Arnab Chakraborty – Managing Director, Analytics at Accenture Consulting
Anil Kaul – CEO and Co-founder at Absolutdata
Dr. N.R.Srinivasa Raghavan, Senior Vice President & Head of Analytics at Reliance Industries Limited
Interview with Jörg Kienitz, co-author with Daniel Wetterau of Financial Modelling: Theory, Implementation and Practice with MATLAB Source
JB: Why MATLAB? Was there a reason for choosing it in this context?
JK: Our attitude was that it was a nice environment for developing models because you do not have to concentrate on the side issues. For instance, if you want to calibrate a model you can really concentrate on implementing the model without having to think about the algorithms doing the optimisation for example. MATLAB offers a lot of optimisation routines which are really reliable and which are fast, which are tested and used by thousands of people in the industry. We thought it was a good idea to use standardised mathematical software, a programming language where all the mathematical functions like optimisation, like Fourier transform, random number generator and so on, are very reliable and robust. That way we could concentrate on the algorithms which are necessary to implement models, and not have to worry about a programming a random number generator or such stuff. That was the main idea, to work on a strong ground and build our house on a really nice foundation. So that was the idea of choosing MATLAB.
Knowledge-based programming: Wolfram releases first demo of new language, 30 years in the making
Economy
Credit Card Debt Threatens Turkey's Economy – kind of like the subprime mortgage scene in the US before 2008.
..Standard & Poor's warned in a report last week that the boom in consumer credit had become a serious risk for Turkish lenders. Slowing economic growth, political turmoil and increasing reluctance by foreign investors to provide financing "are prompting a deterioration in the operating environment for Turkish banks,"
A shadow banking map from the New York Fed. Go here and zoom in for detail.
China Sees Expansion Outweighing Yuan, Shadow Bank Risk
China's Finance Minister Lou Jiwei played down yuan declines and the risks from shadow banking as central bank Governor Zhou Xiaochuan signaled that the nation's economy can sustain growth of between 7 percent and 8 percent.
Outer Space
715 New Planets Found (You Read That Number Right)
Speaks for itself. That's a lot of new planets. One of the older discoveries – Tau Boötis b – has been shown to have water vapor in its atmosphere.
Hillary, 'The Family,' and Uganda's Anti-Gay Christian Mafia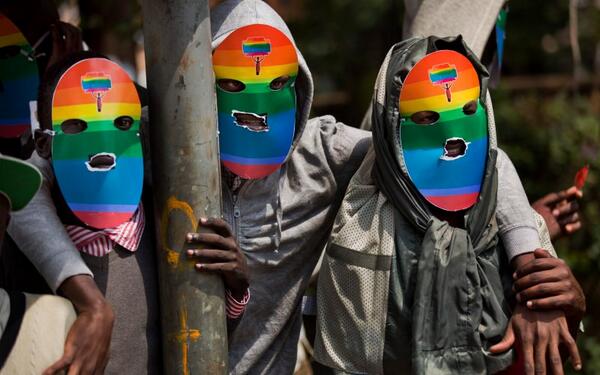 I heard about this at the SunDance film gathering in 2013. Apparently, there are links between US and Ugandan groups in promulgating this horrific law.
An Astronaut's View of the North Korean Electricity Black Hole