Mobile ecommerce is no longer just another means consumers use to buy products online. It's now the predominant way buyers visit ecommerce sites.
And mobile applications are radically changing the nature of shopping. The Emeritus founder of comScore, for example, highlights the two aspects of mobile ecommerce,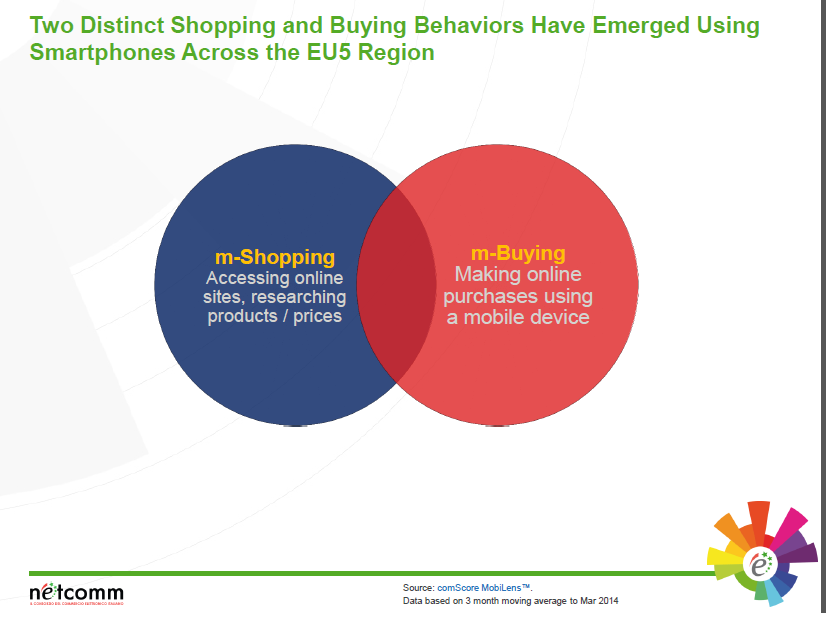 Examples of m-Shopping, according to Internet Retailer, include –
Online consumers use their smartphones and tablets for many shopping-related activities. In Q2 2013, 57% of smartphone users while in a retailer's store visited that retailer's site or app compared with 43% who consulted another company's site or app, comScore says. The top reason consumers consulted retailers' sites or apps was to compare prices. Among those smartphone users who went to the same retailer's site, 59% wanted to see if there was an online discount available, the report says. Similarly, among those who checked a different retailer's site, 92% wanted to see if they could get a better deal on price.
Smartphone owners also used their devices while in stores to take a picture of a product (23%), text or call family or friends about a product (17%), and send a picture of a product to family and friends (17%).
According to Gian Fulgoni, "m-Buying" is the predominant way shoppers now engage with retail brands online in the US.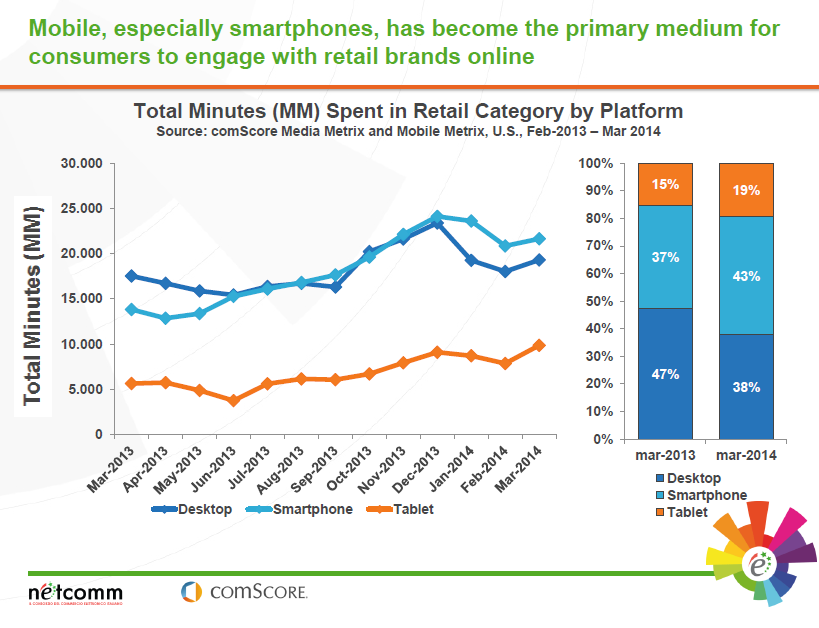 Growth, Adoption, and Use of Mobile E-Commerce explores patterns of mobile ecommerce with extensive data on eBay transactions.
One of the more interesting findings is that,
..adoption of the mobile shopping application is associated with both an immediate and sustained increase in total platform purchasing. The data also do not suggest that mobile application purchases are simply purchases that would have been made otherwise on the regular Internet platform.
The following chart illustrates this effect.
Finally. responsive web design seems to be a key to optimizing for mobile ecommerce.
Responsive web design is a process of making your website content adaptable to the size of the screen you are viewing it on. By doing so, you can optimise your site for mobile and tablet traffic, without the need to manage multiple templates, or separate content.