Crude oil prices plummeted last week, moving toward $80/Bbl for West Texas Intermediate (WTI) – the spot pricing standard commodity.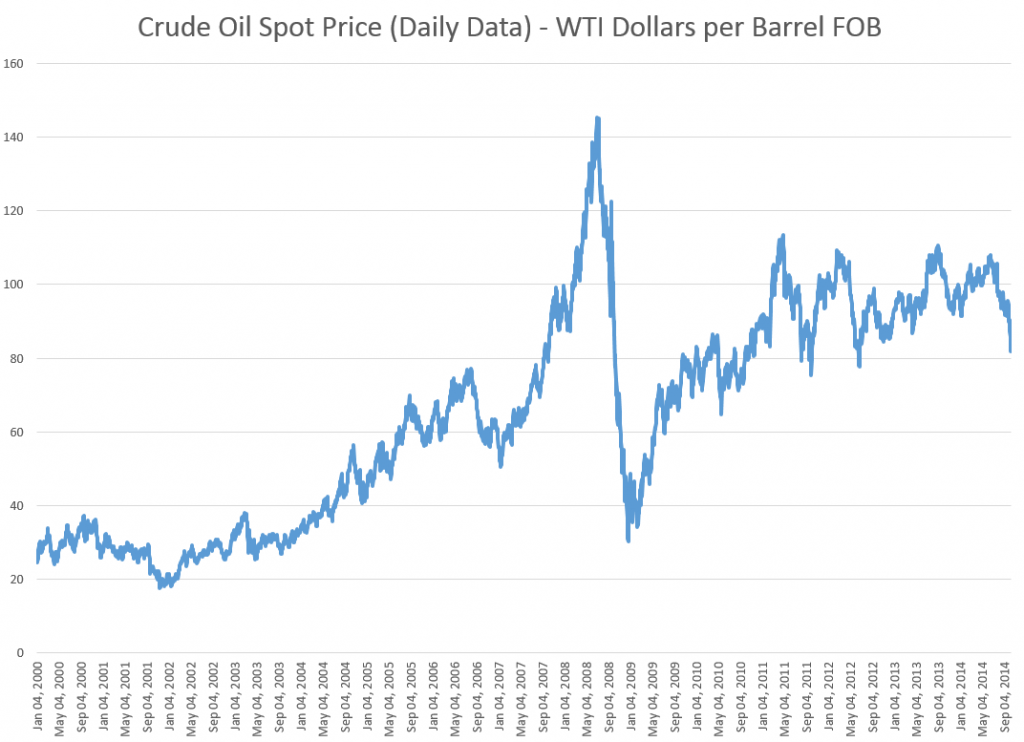 OPEC – the Organization of Petroleum Exporting Counties – is a key to trajectory of oil prices, accounting for about 40 percent of global oil output.
Media reports that the Saudi Arabian Kingdom, which is the largest producer in OPEC, is advising that it will not cut oil production at the current time. The US Energy Information Agency (EIA) has a graph on its website underlining the importance of Saudi production to global oil prices.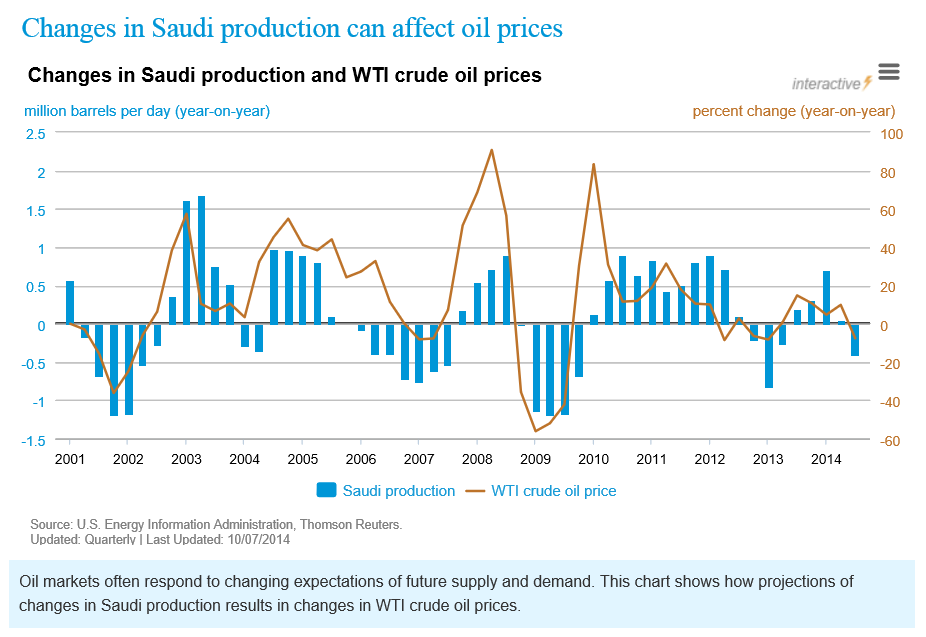 Officially, there is very little in the media to pin down the current Saudi policy, although, off-the-record, Saudi representatives apparently have indicated they could allow crude prices to drift between $80 and $90 a barrel for a couple of years. This could impact higher cost producers, such as Iran and burgeoning North American shale oil production.
At the same time, several OPEC members, such as Venezuela and Libya, have called for cuts in output to manage crude prices going forward. And a field jointly maintained by Saudi Arabia and Kuwait just has been shut down, ostensibly for environmental upgrades.
OPEC's upcoming November 27 meeting in Vienna, Austria should be momentous.
US Oil Production
Currently, US oil production is running at 8.7 million barrels a day, a million barrels a day higher than in a comparable period of 2013, and the highest level since 1986.
The question of the hour is whether US production can continue to increase with significantly lower oil prices.
Many analysts echo the New York Times, which recently compared throttling back US petroleum activity to slowing a freight train.
Most companies make their investment decisions well in advance and need months to slow exploration because of contracts with service companies. And if they do decide to cut back some drilling, they will pick the least prospective fields first as they continue developing the richest prospects.
At the same time, the most recent data suggest US rig activity is starting to slip.
Economic Drivers
It's all too easy to engage in arm-waving, when discussing energy supplies and prices and their relationship to the global economy.
Of course, we have supply and demand, as one basis. Supplies have been increasing, in part because of new technologies in US production and Libyan production coming back on line.
Demands have not been increasing, on the other hand, as rapidly as in the past. This reflects slowing growth in China and continuing energy conservation.
One imponderable is the influence of speculators on oil prices. Was there a "bubble" before 2009, for example, and could speculators drive oil prices significantly lower in coming months?
Another factor that is hard to assess is whether 2015 will see a recession in major parts of the global economy.
The US Federal Reserve has been planning on eliminating Quantitative Easing (QE) – its program of long-term bond purchases – and increasing the federal funds rate from its present level of virtually zero. Many believe that these actions will materially slow US and global economic growth. Coupled with the current deflationary environment in Europe, there have been increasing signs that factors could converge to trigger a recession sometime in 2015.
However, low energy prices usually are not part of the prelude for a recession, although they can develop after the recession takes hold.
Instead, prices at the pump in the US could fall below $3.00 a gallon, providing several hundred dollars extra in discretionary income over the course of a year. This, just prior to the Christmas shopping season.
So – if US oil production continues to increase and prices at the pump fall below $3.00, there will be jobs and cheap gas, a combination likely to forstall a downturn, at least in the US for the time being.
Top image courtesy of GameDocs