Predicting the outcome of elections is a fascinating game with more and more sophisticated predictive analytics.
The Republicans won bigtime, of course.
They won comfortable control of the US Senate and further consolidated their majority in the House of Representatives.
Counting before the Louisiana runoff election, which a Republican is expected to win, the balance is 52 to 44 in the Senate, highlighted in the following map from Politico.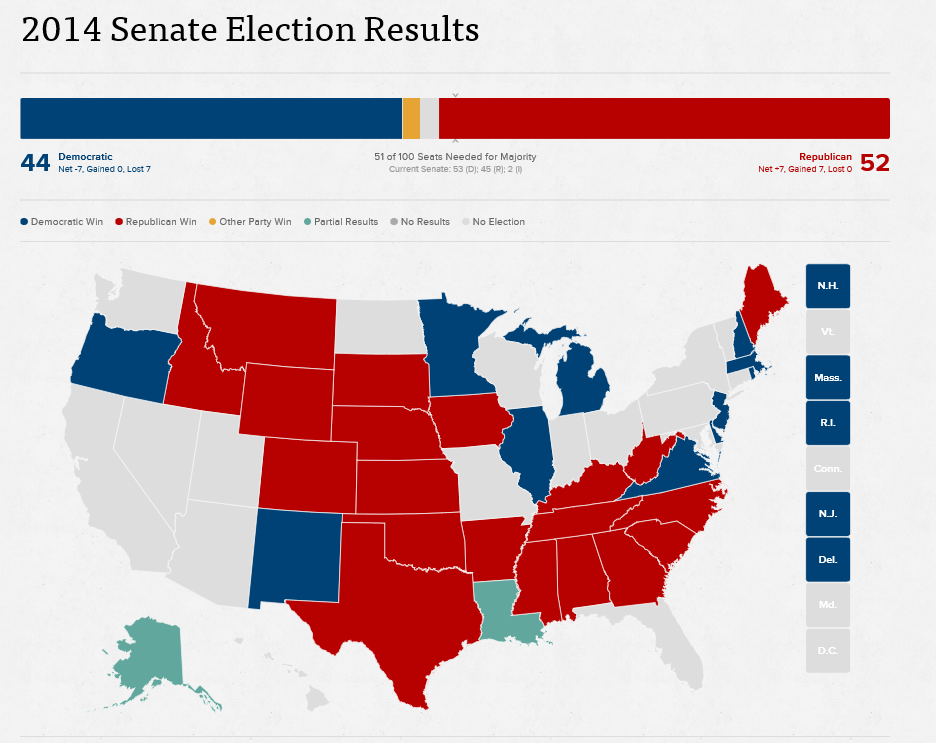 In the US House of Representatives, Republicans gained 12 seats for a 57 percent majority, 244 to 184, as illustrated in a New York Times graphic.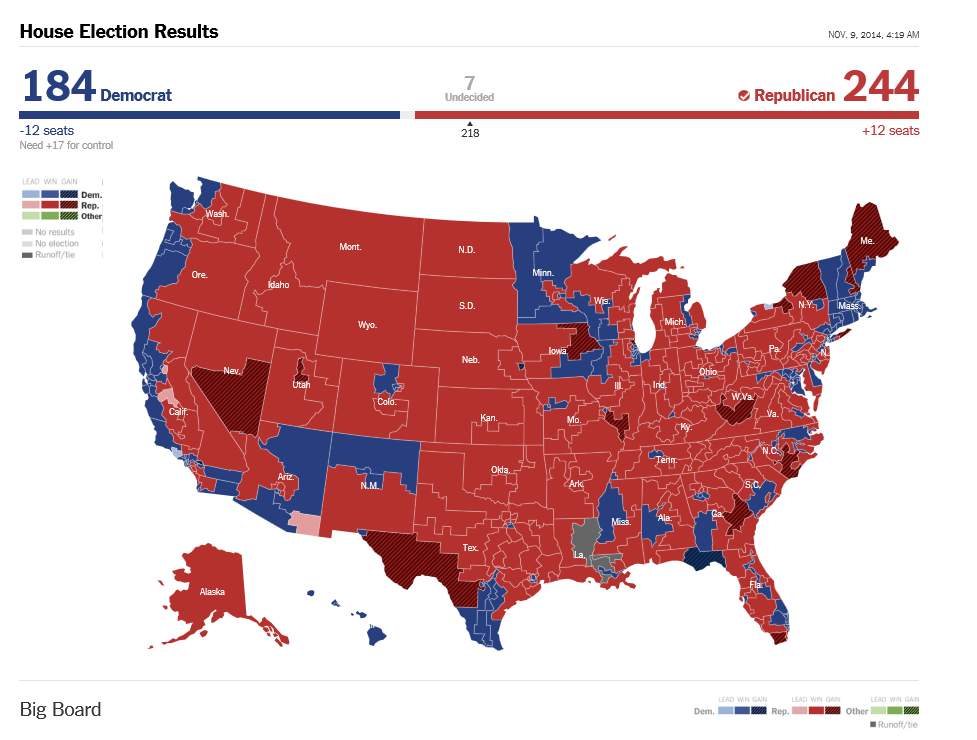 Did Anyone See This Coming?
Nate Silver, who was prescient in the 2012 General Election, issued an update on his website FiveThirtyEight on November 4 stating that Republicans Have A 3 In 4 Chance Of Winning The Senate.
And so they did win.
Salon's review of Silver's predictions notes that,
Overall, the candidate with better-than-even odds in FiveThirtyEight's model won or is likely to in 34 of the 36 Senate contests this year, for a success rate of 94 percent.
The track record for the governorships was less shining, with upsets in Maryland and Kansas and several wins by candidates with unfavorable odds in the FiveThirtyEight lineup.
Bias in Polls
Silver's forecasting model weighs both polling data and fundamentals- like demographics.
After the election, Silver blamed some of his mistakes on bias in polls, claiming that, this time, the Polls Were Skewed Toward Democrats.
Based on results as reported through early Wednesday morning …. the average Senate poll conducted in the final three weeks of this year's campaign overestimated the Democrat's performance by 4 percentage points. The average gubernatorial poll was nearly as bad, overestimating the Democrat's performance by 3.4 points.
He backs this up with details of bias in polls by race, and, interestingly, throws up the following exhibit, suggesting that there is nothing systematic about bias in the polls.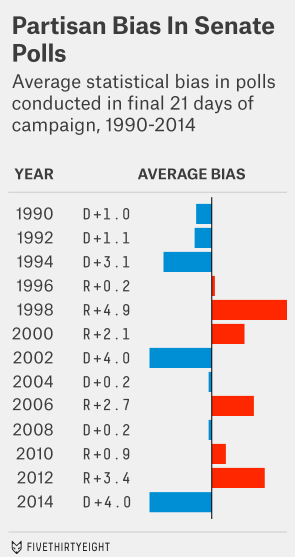 Here is another discussion of mid-term election polling error – arguing it is significantly greater during midterms than in Presidential election years.
While not my area of expertise (although I have designed and analyzed survey data), I'm think the changing demographics of "cell-only" voters, no-call lists, and people's readiness to hang up on unsolicited calls impacts the reliability of polling data, as usually gathered. What Silver seems to show with his graphic above, is that adjusting for these changes causes another form of unreliability.