I showed a relative this blog a couple of days ago, and, wanting "something spicy," I pulled up The Record of Failure to Predict Recessions is Virtually Unblemished. The lead picture, as for this post, is Peter Sellers in his role as "Chauncey Gardiner" in Being There. Sellers played a simpleton mistaken for a savant, who would say things that everyone thought was brilliant, such as "There will be growth in the Spring."
Well, last Wednesday, the US Bureau of Economic Analysis released a third revision of its estimate of the 1st quarter 2014 real GDP growth – down from an initial estimate of a positive .1 percent to -2.9 percent growth at an annual rate.
The BEA News Release says,
Real gross domestic product — the output of goods and services produced by labor and property located in the United States — decreased at an annual rate of 2.9 percent in the first quarter of 2014 according to the "third" estimate released by the Bureau of Economic Analysis….
The decrease in real GDP in the first quarter primarily reflected negative contributions from private inventory investment, exports, state and local government spending, nonresidential fixed investment, and residential fixed investment that were partly offset by a positive contribution from PCE. Imports, which are a subtraction in the calculation of GDP, increased.
Looking at this graph of quarterly real GDP growth rates for the past several years, it's clear that a -2.9 percent quarter-over-quarter change is a significant size.
Again, macroeconomic forecasters were caught off guard.
In February of this year, the Survey of Professional Forecasters released its 1st Quarter 2014 consensus forecasts with numbers like –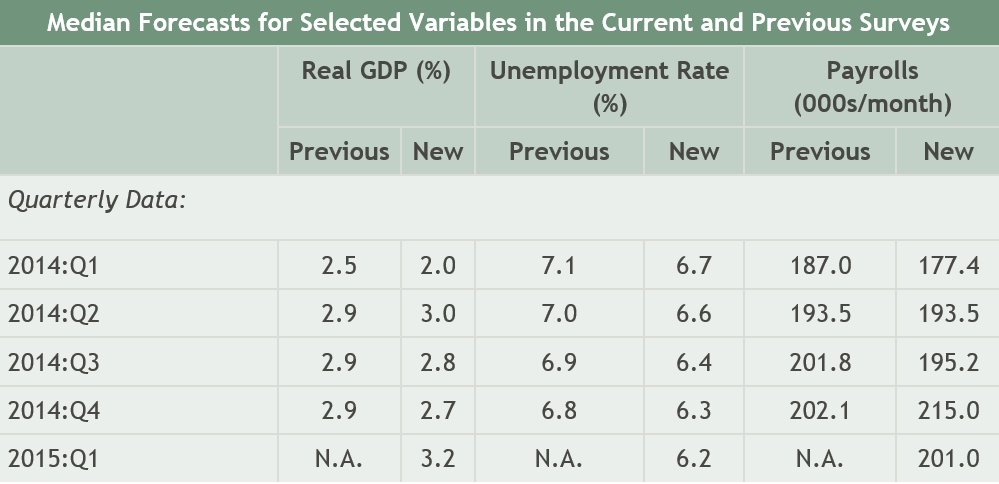 Some SPF participants do predict 2014 overall will be a year of recession, as the following chart shows, but they are a tiny minority.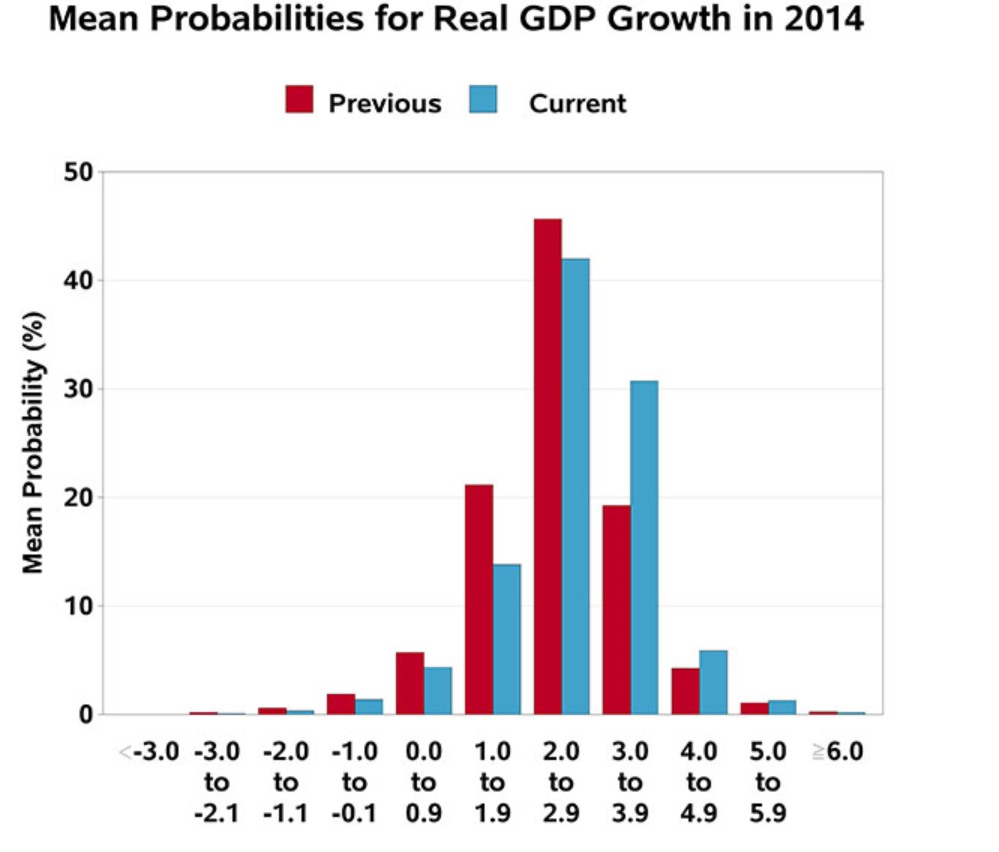 A downward revision of almost 3 percentage points on the part of the BEA and almost 5 percent change for the median SPF forecast is poor performance indeed.
One hears things sped up in Q2, but on what basis I do not really know – and I am thinking of tracking key markets in future posts, such as housing, consumer spending, and so forth.
My feeling is that the quandary of the Fed – its desperate need to wind down asset purchases and restore interest rates to historic levels –creates an environment for a kind of "happy talk."
Here's some history on the real GDP.