Optimizing the current business setup does not appear to be triggering significant new growth – more like a convergence to secular stagnation, as Larry Summers has suggested.
So it's important to document where the trends in new business and venture capital, as well as patents, are going.
The good news is you are looking at this, and via the Internet we can – with enough fumbling around – probably find a way out of this low to negative growth puzzle.
Declining Business Dynamism in the United States: A Look at States and Metros– Brookings Institution research shows more firms exited than entered business in all states and in virtually all metropolitan areas for more than a decade.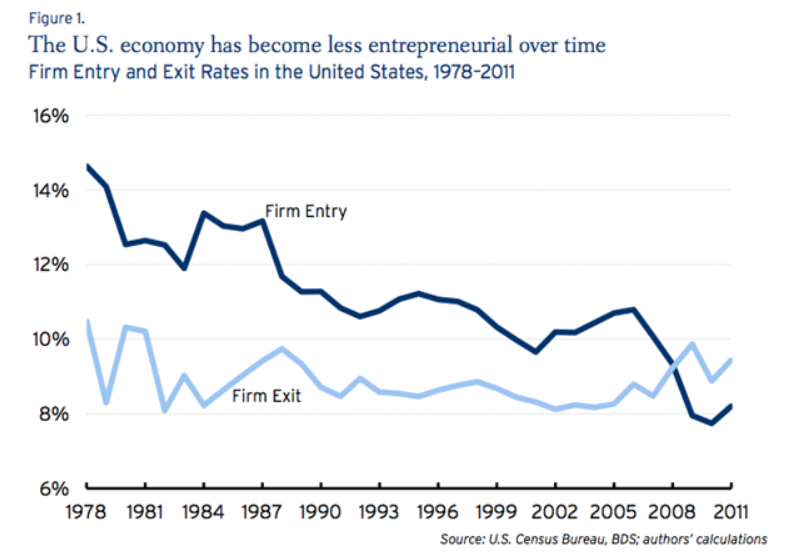 Job reallocation is another measure of new business formation, since startups mean new hires. It has fallen too.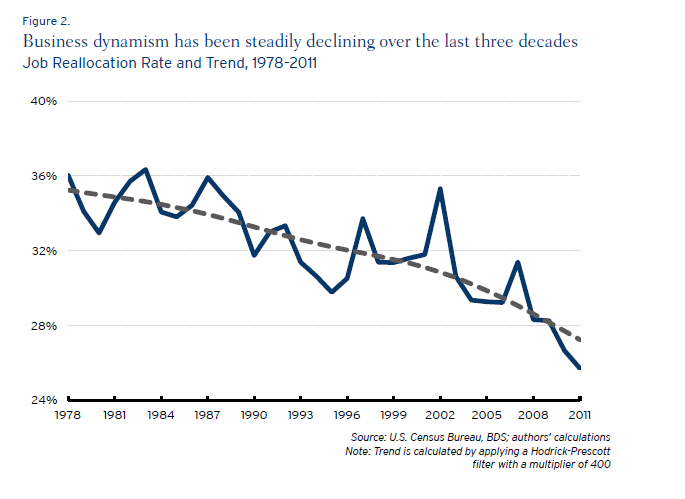 The Atlantic monthly blog on this topic is a nice read, if you don't go through the Brookings report directly. It's at The Rate of New Business Formation Has Fallen By Almost Half Since 1978.
The policy recommendation is reforming immigration. Apparently, about half Silicon Valley startups over some recent period were headed by entrepreneurs who were not born in the US. Currently, many positions in US graduate schools of engineering and science are occupied by foreign students. This seems like a promising proposal, but, of course, drat, Eric Cantor lost his bid in the Virginia Republican primary.
The Kauffman Foundation has an update for 2013 – Entrepreneurial Activity Declines Again in 2013 as Labor Market Strengthens. There is an interesting report attached to this story exploring the concept that people starting new businesses is related to the level of unemployment.
National Venture Capital Association statistics show that venture capital funding recovered from the Great Recession and has stabilized, but by no means has taken up the slack in new business formation.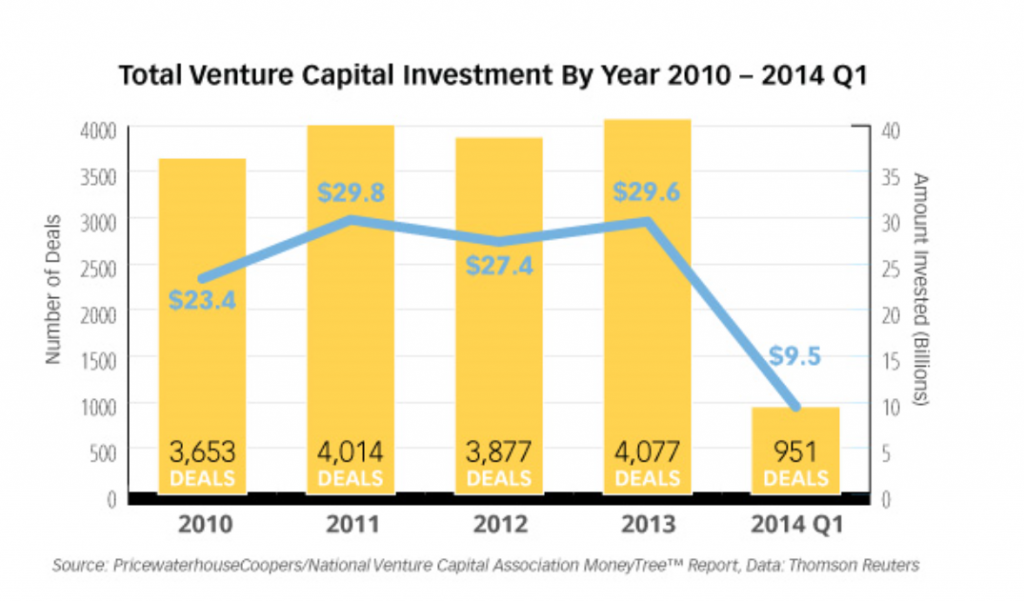 There's also this chart on venture capital funds –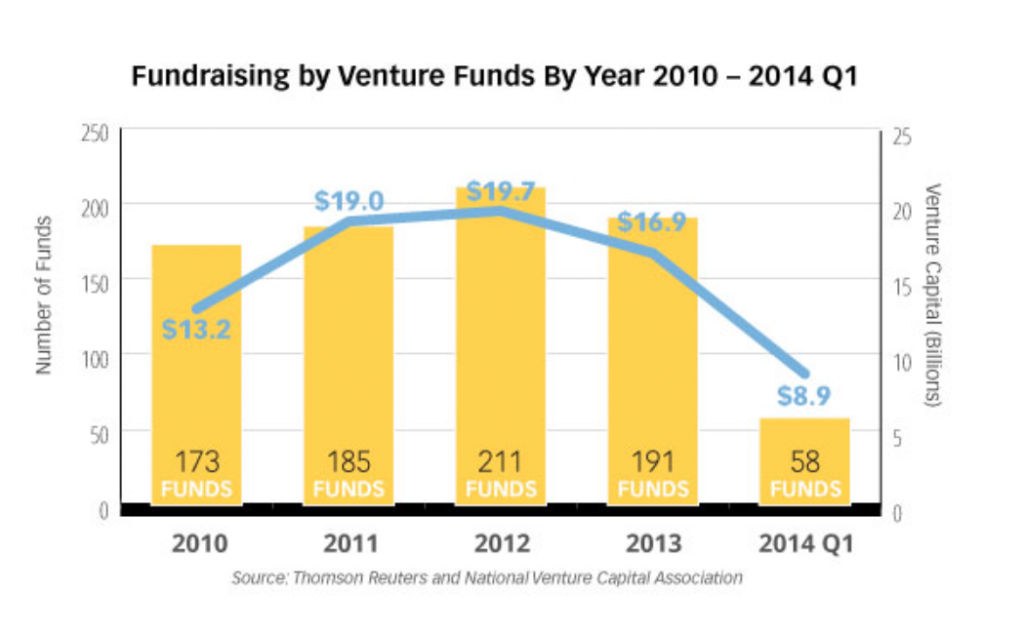 Of course, EY or what used to be called Ernst and Young produces a fairly authoritative annual report on venture capital activity globally. See Global Venture Capital Insights and Trends, 2014. This report shows global venture capital activity to have stabilized at about $50 billion in 2013.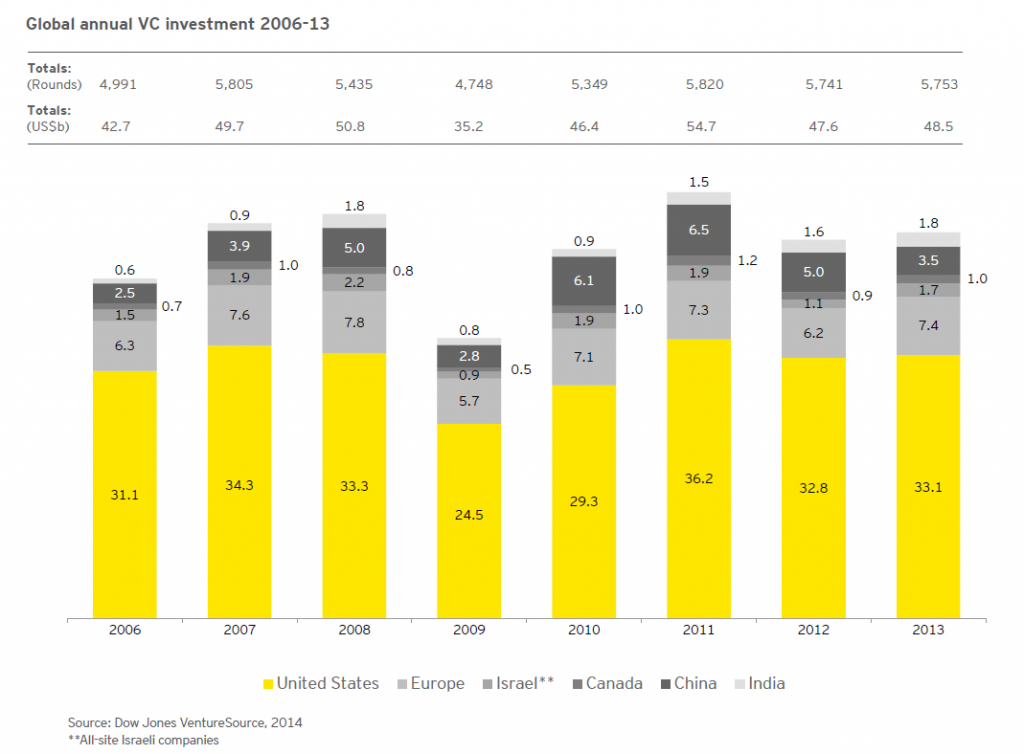 U.S. Firms Hold Record $1.64 Trillion in Cash With Apple in Lead – meanwhile, the largest US corporations amass huge cash reserves, much of it head abroad to take advantage of tax provisions.
Apple, whose cash pile surged to $158.8 billion from $5.46 billion in 2004, now holds 9.7 percent of total corporate cash outside the financial industry..
Firms in the technology industry kept $450 billion overseas — 47 percent of the total corporate cash pile held outside the U.S.
Federal Spending on Science, Already Down, Would Remain Tight
The Obama administration, constrained by spending caps imposed by Congress, suggested on Tuesday a federal budget for 2015 that would mean another year of cuts in the government's spending on basic scientific research.
The budget of the National Institutes of Health, the largest provider of basic research money to universities, would be $30.4-billion, an increase of just $200-million from the current year. After accounting for inflation, that would be a cut of about 1 percent.
Three other leading sources of research money to universities—the National Science Foundation, the Department of Defense, and the National Aeronautics and Space Administration—also would see their science budgets shrink or grow slower than the expected 1.7-percent rate of inflation.
Over all, federal spending on research and development would increase only 1.2 percent, before inflation, in the 2015 fiscal year, which begins on October 1. The portion for basic research would fall 1 percent, a reduction that inflation would nearly triple.
Latest Patent Filing Figures – World Intellectual Property Organization The infographic pertains to filings under the Patent Cooperation (PC) Treaty, under covers the largest number of patents. The World Intellectual Property Organization also provides information on Madrid and Hague System filings. Note the US and Japan are still at the top of the list, but that China has moved to number 3.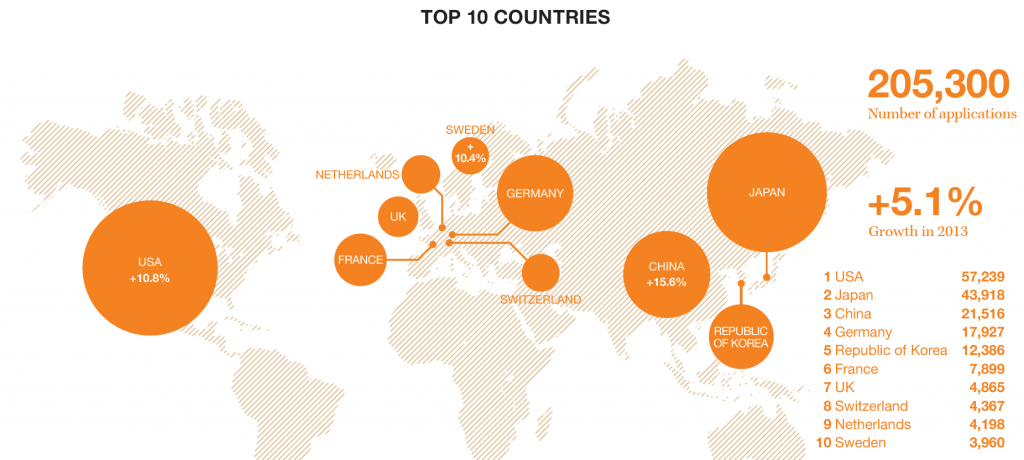 In general, a WIPO report for 2013 documents, IP [intellectual property] filings sharply rebounded in 2012, following a decrease in 2009, at the height of the financial crisis, and are now even exceeding pre-global economic crisis rates of growth.