Kaggle is evolving in industry-specific directions, although it still hosts general data and predictive analytics contests.
"We liked to say 'It's all about the data,' but the reality is that you have to understand enough about the domain in order to make a business," said Anthony Goldbloom, Kaggle's founder and chief executive. "What a pharmaceutical company thinks a prediction about a chemical's toxicity is worth is very different from what Clorox thinks shelf space is worth. There is a lot to learn in each area."
Oil and gas, which for Kaggle means mostly fracking wells in the United States, have well-defined data sets and a clear need to find working wells. While the data used in traditional oil drilling is understood, fracking is a somewhat different process. Variables like how long deep rocks have been cooked in the earth may matter. So does which teams are working the fields, meaning early-stage proprietary knowledge is also in play. That makes it a good field to go into and standardize.
(as reported in http://bits.blogs.nytimes.com/2014/01/01/big-data-shrinks-to-grow/?_r=0)
This December 2013 change of direction pushed out Jeremy Howard, Kaggle's former Chief Data Scientist, who now says he is,
focusing on building new kinds of software that could better learn about the data it was crunching and offer its human owners insights on any subject.
"A lone wolf data scientist can still apply his knowledge to any industry," he said. "I'm spending time in areas where I have no industrial knowledge and finding things. I'm going to have to build a company, but first I have to spend time as a lone wolf."
A year or so ago, the company evolved into a service-provider with the objective of linking companies, top competitors and analytical talent, and the more than 100,000 data scientists who compete on its platform.
So Kaggle now features CUSTOMER SOLUTIONS ahead of COMPETITIONS at the head of its homepage, saying We're the global leader in solving business challenges through predictive analytics. The homepage also features logos from Facebook GE, MasterCard, and NASA, as well as a link Compete as a data scientist for fortune, fame and fun ».
But a look at the competitions underway currently highlight the fact that just a few pay a prize now.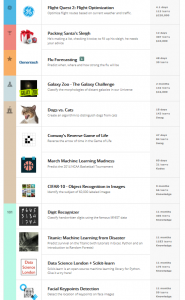 Presumeably, companies looking for answers are now steered into the Kaggle network. The Kaggle Team numbers six analysts with experience in several industries, and the Kaggle Community includes scores of data and predictive analytics whizzes, many with "with multiple Kaggle wins."
Here is a selection of Kaggle Solutions.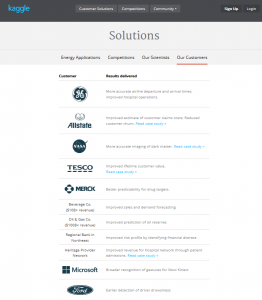 This video gives you a good idea of the current focus of the company.
This is a big development in a way, and supports those who point to the need for industry-specific knowledge and experience to do a good job of data analytics.