You really have to become something like a social philosopher to enter the climate change and infrastructure discussion. I mean this several ways.
Of course, there is first the continuing issue of whether or not climate change is real, or is currently being reversed by a "pause" due to the oceans or changes in trade winds absorbing some of the increase in temperatures. So for purposes of discussion, I'm going to assume that climate change is real, and with a new El Niño this year global temperatures and a whole panoply of related weather phenomena – like major hurricanes – will come back in spades.
But then can we do anything about it? Is it possible for a developed or "mature" society to plan for an uncertain, but increasingly likely future? With this question come visions of the amazingly dysfunctional US Congress, mordantly satirized in the US TV show House of Cards.
The National Society of Professional Engineers points out that major infrastructure bills relating to funding the US highway system and water systems are coming up in Congress in 2014.
Desperately needed long-term infrastructure projects were deferred to address other national priorities or simply fell victim to the ongoing budget crisis. In fact, federal lawmakers extended the surface transportation authorization an unprecedented 10 times between 2005 and 2012, when Congress finally authorized the two-year Moving Ahead for Progress in the 21st Century Act (MAP-21). Now, with MAP-21 set to expire before the end of 2014, two of the most significant pieces of infrastructure legislation are taking center stage in Congress. The Water Resources Reform and Development Act (WRRDA) and the reauthorization of the surface transportation bill present a rare opportunity for Congress to set long-term priorities and provide needed investment in our nation's infrastructure. Collectively, these two bills cover much, though not all, of US infrastructure. The question then becomes, can Congress overcome continuing partisan gridlock and a decades-long pattern of short-term fixes to make a meaningful commitment to the long-term needs of US infrastructure?
Yes, for sure, that is the question.
Hurricane Sandy – really by the time it hit New Jersey and New York a fierce tropical storm – wreaked havoc on Far Rockaway, flooding the New York City subway system in 2012. This gave rise to talk of sea walls after the event.  And I assume something like that is in the planning stages on drawing boards somewhere on the East Coast. But the cost of "ten story tall pilings" on which would be hinged giant gates is on the order of billions of US dollars.
California
I notice interesting writing coming out of California, pertaining to the smart grid and the need to extend this concept from electricity to water.
The California Energy Commission (CEC) publishes an Integrated Energy Policy Report (IEPR – pronounced eye-per) every two years, and the 2013 IEPR was just approved ..Let's look at two climate change impacts – temperature and precipitation.  From a temperature perspective, the IEPR anticipates that as the thermometer rises, so does the demand for electricity to run AC.  San Francisco Peninsula communities that never had a need for AC will install a couple million units to deal with summer temperatures formerly confined to the Central Valley.  PG&E and municipal utilities in Northern California will notice impacts in seasonal demand for electricity in both the duration of heat waves and peak apexes during the hottest times of day.  In the southern part of the state, the demand will also grow as AC units work harder to offset hotter days. At the same time, increased temperatures decrease power plant efficiencies, whether the plant generates electricity from natural gas, solar thermal, nuclear, or geothermal.  Their cooling processes are also negatively impacted by heat waves.  Increased temperatures also impact transmission lines – reducing their efficiency and creating line sags that can trigger service disruptions. Then there's precipitation.  Governor Jerry Brown just announced a drought emergency for the state.  A significant portion of California's water storage system relies on the Sierra Mountains snowpack, which is frighteningly low this winter.  This snowpack supplies most of the water sourced within the state, and hydropower derived from it supplies about 15% of the state's homegrown electricity.  A hotter climate means snowfall becomes rainfall, and it is no longer freely stored as snow that obligingly melts as temperatures rise.  It may not be as reliably scheduled for generation of hydro power as snowfalls shift to rainfalls. We may also receive less precipitation as a result of climate change – that's a big unknown right now.  One thing is certain.  A hotter climate will require more water for agriculture – a $45 billion economy in California – to sustain crops.  And whether it is water for industrial, commercial, agricultural, or residential uses, what doesn't fall from the skies will require electricity to pump it, transport it, desalinate it, or treat it.
Boom – A Journal of California packs more punch in discussing the "worst case"
"The choice before us is not to stop climate change," says Jonathan Parfrey, executive director of Climate Resolve in Los Angeles. "That ship has sailed. There's no going back. There will be impacts. The choice that's before humanity is how bad are we going to do it to ourselves?"
So what will it be? Do you want the good news or the bad news first?
The bad news. OK.
If we choose to do nothing, the nightmare scenario plays out something like this: amid prolonged drought conditions, wildfires continuously burn across a dust-dry landscape, while potable water has become such a precious commodity that watering plants is a luxury only residents of elite, gated communities can afford. Decimated by fires, the power grid infrastructure that once distributed electricity—towers and wires—now loom as ghostly relics stripped of function. Along the coast, sea level rise has decimated beachfront properties while flooding from frequent superstorms has transformed underground systems, such as Bay Area Rapid Transit (BART), into an unintended, unmanaged sewer system..
This article goes on to the "good news" which projects a wave of innovations and green technology by 2050 to 2075 in California.
Sea Level Rise
Noone knows, at this point, the extent of the rise in sea level in coming years, and interestingly, I never seen a climate change denier also, in the same breath, deny that sea levels have been rising historically.
There are interesting resources on sea level rise, although projections of how much rise over what period are uncertain, because no one knows whether a big ice mass, such as parts of the Antarctic ice shelf are going to melt on an accelerated schedule sometime soon.
An excellent scientific summary of the sea level situation historically can be found in Understanding global sea levels: past, present and future.
Here is an overall graph of Global Mean Sea Level –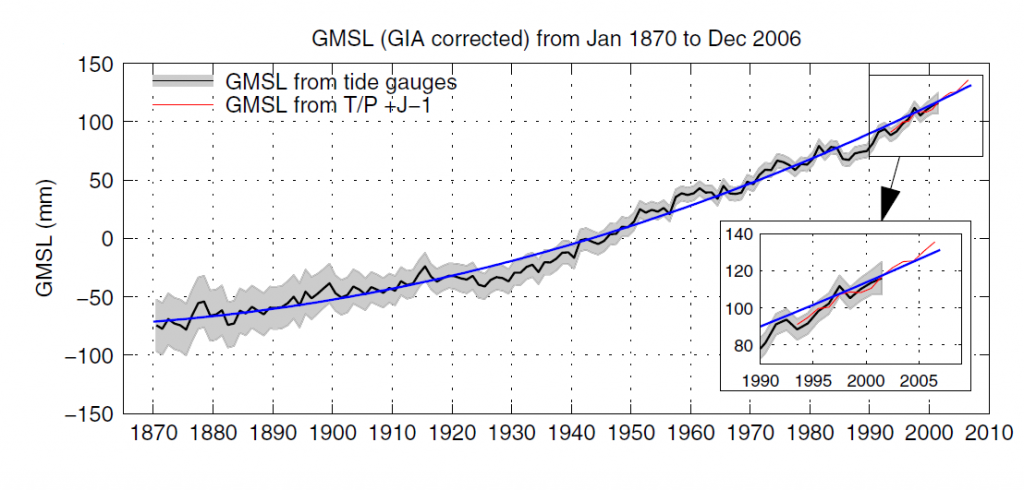 This inexorable trend has given rise to map resources which suggest coastal areas which would be underwater or adversely affected in the future by sea surges.
The New York Times' interactive What Could Disappear suggests Boston might look like this, with a five foot rise in sea level expected by 2100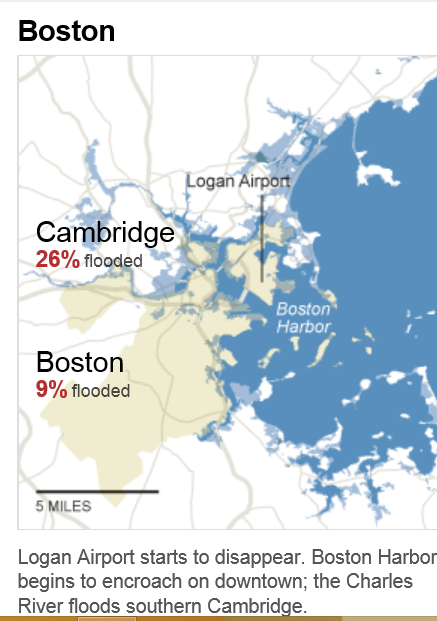 The problem, of course, is that globally populations are concentrated in coastal areas.
Also, storm surges are nonlinearly related to sea level. Thus, a one (1) foot rise in sea level could be linked with significantly more than 1 foot increases in the height of storm surges.
Longer Term Forecasts
Some years back, an interesting controversy arose over present value discounting in calculating impacts of climate change.
So, currently, the medium term forecasts of climate change impacts – sea level rises of maybe 1 to 2 feet, average temperature increases of one or two degrees, and so forth – seem roughly manageable. The problem always seems to come in the longer term – after 2100 for example in the recent National Academy of Sciences study funded, among others, by the US intelligence community.
The problem with calculating the impacts and significance of these longer term impacts today is that the present value accounting framework just makes things that far into the future almost insignificant.
Currently, for example, global output is on the order of 80 trillion dollars. Suppose we accept a discount rate of 4 percent. Then, calculating the discount factor 150 years from today, in 2154, we have 0 .003. So according to this logic, the loss of 80 trillion dollars worth of production in 2154 has a present value of about 250 billion dollars. Thus, losing an amount of output in 150 years equal to the total productive activity of the planet today is worth a mere 250 billion dollars in present value terms, or about the current GDP of Ireland.
Now I may have rounded and glossed some of the arithmetic possibly, but the point stands no matter how you make the computation.
This is totally absurd. Because as a guide to losing future output of $80 trillion dollars in a century and one half, it seems we should be willing to spend on a planetary basis more than a one-time cost of $35 per person today, when the per capita global output is on the order of $1000 per person.
So we need a better accounting framework.
Of course, there are counterarguments. For example, in 150 years, perhaps science will have discovered how to boost the carbon dioxide processing capabilities of plants, so we can have more pollution. And looking back 150 years to the era of the horse and buggy, we can see that there has been tremendous technological change.
But this is a little like waiting for the amazing "secret weapons" to be unveiled in a war you are losing.
Header photo courtesy of NASA