Today, I chatted with Emmanuel Marot, CEO and Co-founder at LendingRobot.
We were talking about stock market forecasting, for the most part, but Marot's peer to peer (P2P) lending venture is fascinating.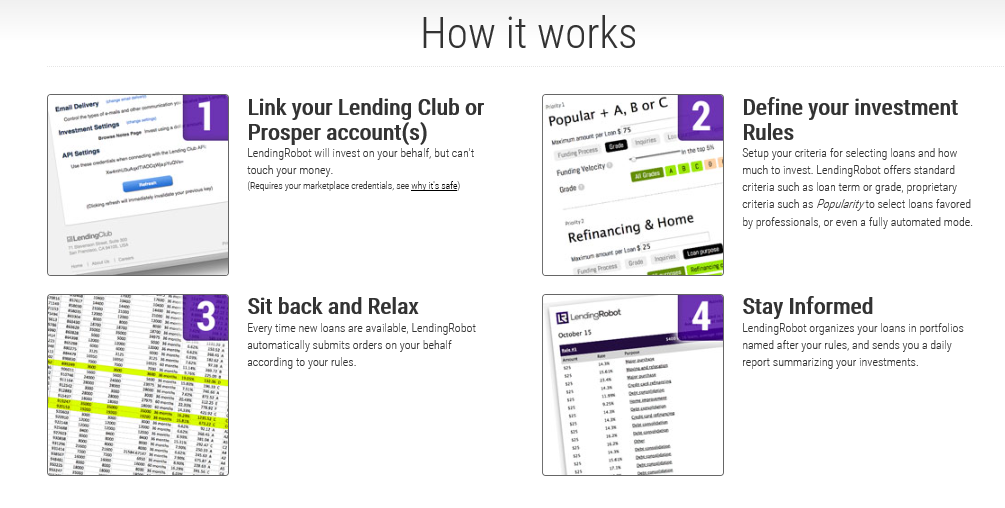 According to Gilad Golan, another co-founder of LendingRobot, interviewed in GeekWire Startup Spotlight May of last year,
With over $4 billion in loans issued already, and about $500 million issued every month, the peer lending market is experiencing phenomenal growth. But that's nothing compared to where it's going. The market is doubling every nine months. Yet it is still only 0.2 percent of the overall consumer credit market today.
And, yes, P2P lending is definitely an option for folks with less-than-perfect credit.
In addition to lending to persons with credit scores lower than currently acceptable to banks (700 or so), P2P lending can offer lower interest rates and larger loans, because of lower overhead costs and other efficiencies.
LendIt USA is scheduled for April 13-15, 2015 in New York City, and features luminaries such as Lawrence Summers, former head of the US Treasury, as well as executives in some leading P2P lending companies (only a selection shown).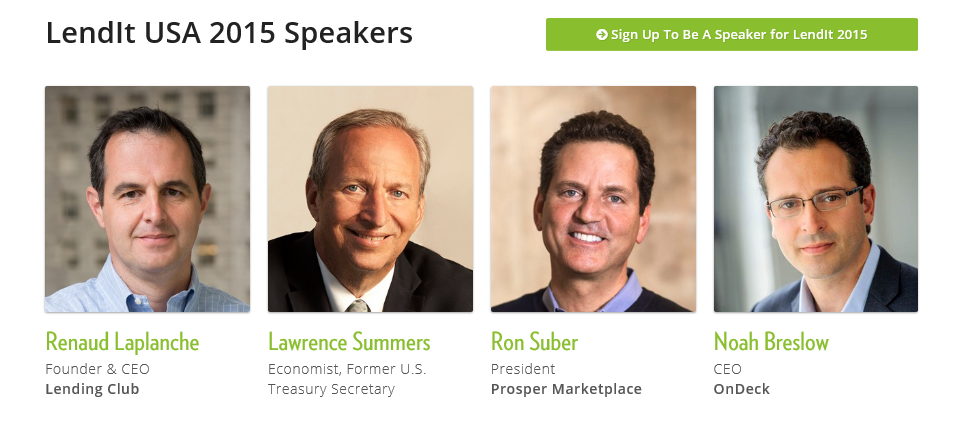 Lending Club and OnDeck went public last year and boast valuations of $9.5 and $1.5 billion, respectively.
Topics at the Lendit USA Conference include:
◾ State of the Industry: Today and Beyond
◾ Lending to Small Business
◾ Buy Now! Pay Later! – Purchase Finance meets P2P
◾ Working Capital for Companies through invoice financing
◾ Real Estate Investing: Equity, Debt and In-Between
◾ Big Money Talks: the institutional investor panel
◾ Around the World in 40 minutes: the Global Lending Landscape
◾ The Giant Overseas: Chinese P2P Lending
◾ The Support Network: Service Providers for a Healthy Ecosystem
Peer-to-peer lending is small in comparison to the conventional banking sector, but has the potential to significantly disrupt conventional banking with its marble pillars, spacious empty floors, and often somewhat decorative bank officers.
By eliminating the need for traditional banks, P2P lending is designed to improve efficiency and unnecessary frictions in the lending and borrowing processes. P2P lending has been recognised as being successful in reducing the time it takes to process these transactions as compared to the traditional banking sector, and also in many cases costs are reduced to borrowers. Furthermore in the current extremely low interest-rate environment that we are facing across the globe, P2P lending provides investors with easy access to alternative venues for their capital so that their returns may be boosted significantly by the much higher rates of return available on the P2P projects on offer. The P2P lending and investing business is therefore disrupting, albeit moderately for the moment, the traditional banking sector at its very core.
Peer-to-Peer Lending—Disruption for the Banking Sector?
Top photo of LendingRobot team from GeekWire.