These Links help orient forecasting for companies and markets. I pay particular attention to IT developments. Climate change is another focus, since it is, as yet, not fully incorporated in most longer run strategic plans. Then, primary global markets, like China or the Eurozone, are important. I usually also include something on data science, predictive analytics methods, or developments in economics. Today, I include an amazing YouTube of an ape lighting a fire with matches.
China
Xinhua Insight: Property bubble will not wreck China's economy
Information Technology (IT)
Thoughts on Amazon earnings for Q1 2014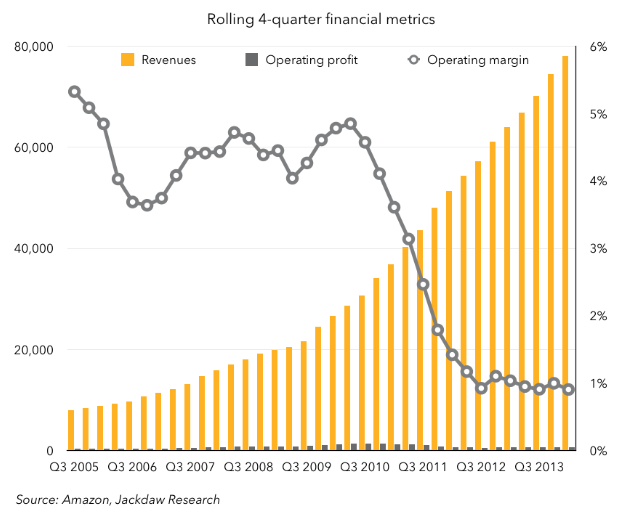 This chart perfectly captures Amazon's current strategy: very high growth at 1% operating margins, with the low margins caused by massive investment in the infrastructure necessary to drive growth. It very much feels as though Amazon recognizes that there's a limited window of opportunity for it to build the sort of scale and infrastructure necessary to dominate e-commerce before anyone else does, and it's scraping by with minimal margins in order to capture as much as possible of that opportunity before it closes.
Apple just became the world's biggest-dividend stock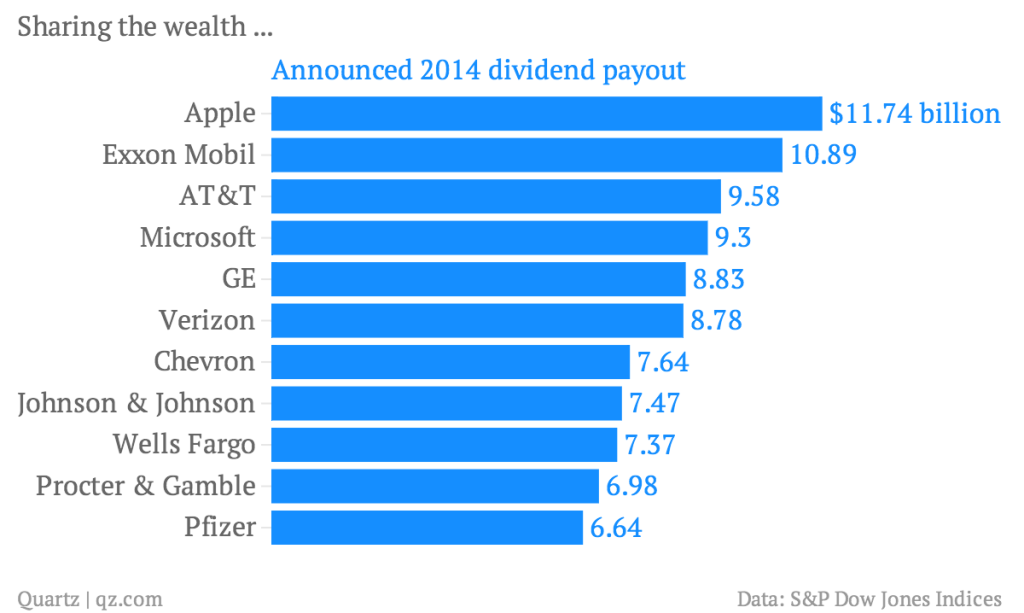 The Disruptive Potential of Artificial Intelligence Applications Interesting discussion of vertical search, virtual assistants, and online product recommendations.
Hi-tech giants eschew corporate R&D, says report
..the days of these corporate "idea factories" are over according to a new study published by the American Institute of Physics (AIP). Entitled Physics Entrepreneurship and Innovation (PDF), the 308-page report argues that many large businesses are closing in-house research facilities and instead buying in new expertise and technologies by acquiring hi-tech start-ups.
Climate Change
Commodity Investors Brace for El Niño
Commodities investors are bracing themselves for the ever-growing possibility for the occurrence of a weather phenomenon known as El Niño by mid-year which threatens to play havoc with commodities markets ranging from cocoa to zinc.
The El Niño phenomenon, which tends to occur every 3-6 years, is associated with above-average water temperatures in the central and eastern Pacific and can, in its worst form, bring drought to West Africa (the world's largest cocoa producing region), less rainfall to India during its vital Monsoon season and drier conditions for the cultivation of crops in Australia.
Economics
Researchers Tested The 'Gambler's Fallacy' On Real-Life Gamblers And Stumbled Upon An Amazing Realization I love this stuff. I always think of my poker group.
..gamblers appear to be behaving as though they believe in the gambler's fallacy, that winning or losing a bunch of bets in a row means that the next bet is more likely to go the other way. Their reactions to that belief — with winners taking safer bets under the assumption they're going to lose and losers taking long-shot bets believing their luck is about to change — lead to the opposite effect of making the streaks longer
Foreign Affairs Focus on Books: Thomas Piketty on Economic Inequality

Is the U.S. Shale Boom Going Bust?
Among drilling critics and the press, contentious talk of a "shale bubble" and the threat of a sudden collapse of America's oil and gas boom have been percolating for some time. While the most dire of these warnings are probably overstated, a host of geological and economic realities increasingly suggest that the party might not last as long as most Americans think.
Apes Can Definitely Use Tools
Bonobo Or Boy Scout? Great Ape Lights Fire, Roasts Marshmallows