Economy and Trade
Asia and Global Production Networks—Implications for Trade, Incomes and Economic Vulnerability Important new book –
The publication has two broad themes. The first is national economies' heightened exposure to adverse shocks (natural disasters, political disputes, recessions) elsewhere in the world as a result of greater integration and interdependence. The second theme is focused on the evolution of global value chains at the firm level and how this will affect competitiveness in Asia. It also traces the past and future development of production sharing in Asia.
Chapter 1 features the following dynamite graphic – (click to enlarge)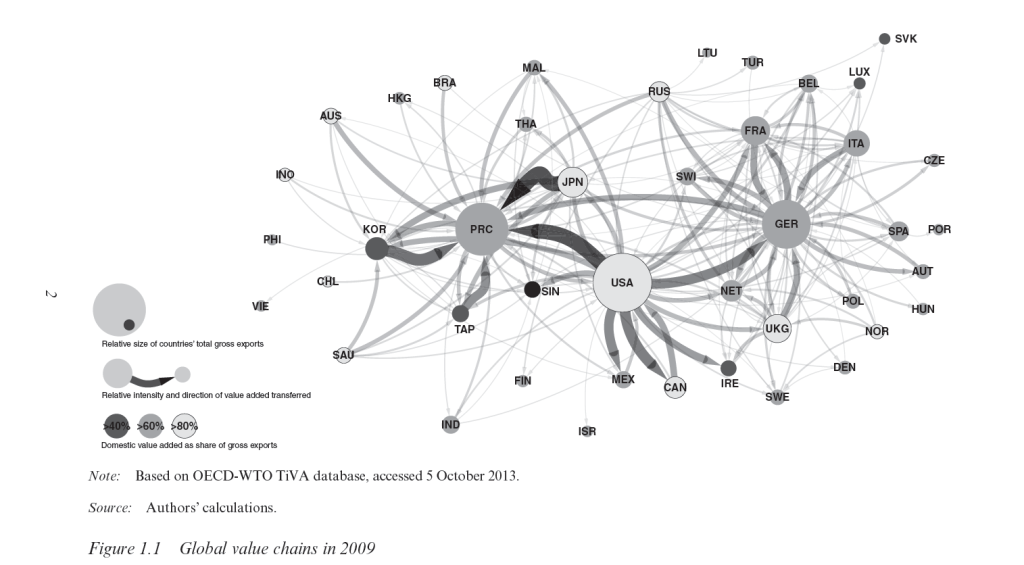 Nouriel Roubini –
Central banks in China, South Korea, Taiwan, Singapore, and Thailand, fearful of losing competitiveness relative to Japan, are easing their own monetary policies – or will soon ease more. The European Central Bank and the central banks of Switzerland, Sweden, Norway, and a few Central European countries are likely to embrace quantitative easing or use other unconventional policies to prevent their currencies from appreciating.
All of this will lead to a strengthening of the US dollar, as growth in the United States is picking up and the Federal Reserve has signaled that it will begin raising interest rates next year. But, if global growth remains weak and the dollar becomes too strong, even the Fed may decide to raise interest rates later and more slowly to avoid excessive dollar appreciation.
The cause of the latest currency turmoil is clear: In an environment of private and public deleveraging from high debts, monetary policy has become the only available tool to boost demand and growth. Fiscal austerity has exacerbated the impact of deleveraging by exerting a direct and indirect drag on growth. Lower public spending reduces aggregate demand, while declining transfers and higher taxes reduce disposable income and thus private consumption.
Financial Markets
The 15 Most Valuable Startups in the World
Uber is among the top, raising $2.5 billion in direct investment funds since 2009. Airbnb, Dropbox, and many others.
The Stock Market Bull Who Got 2014 Right Just Published This Fantastic Presentation I especially like the "Mayan Temple" effect, viz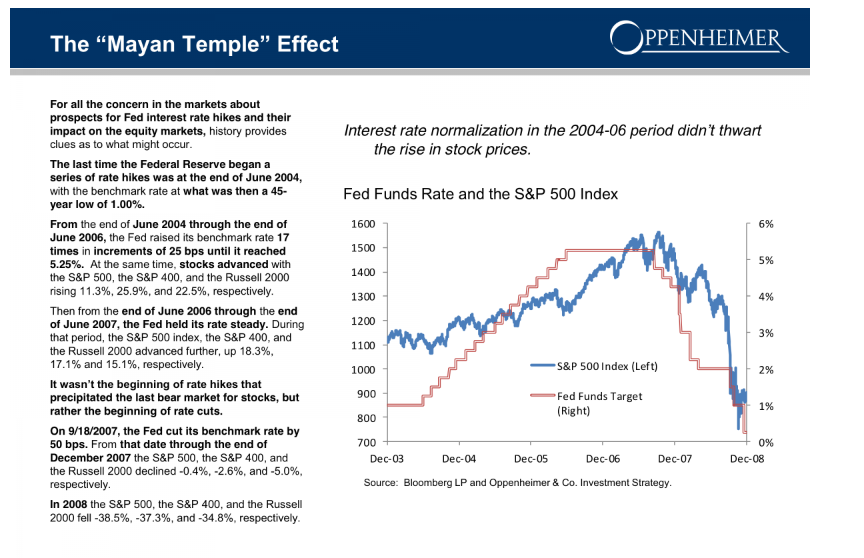 Why Gold & Oil Are Trading So Differently supply and demand – worth watching to keep primed on the key issues.
Technology
10 Astonishing Technologies On The Horizon – Some of these are pretty far-out, like teleportation which is now just gleam in the eye of quantum physicists, but some in the list are in prototype – like flying cars. Read more at Digital Journal entry on Business Insider.
Flexible and bendable smartphones
Smart jewelry
"Invisible" computers
Virtual shopping
Teleportation
Interplanetary Internet
Flying cars
Grow human organs
Prosthetic eyes
Electronic tattoos
Albert Einstein's Entire Collection of Papers, Letters is Now Online
Princeton University Press makes this available.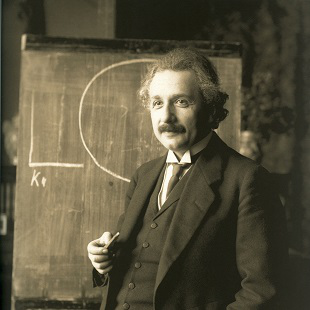 Practice Your French Comprehension
Olivier Grisel, Software Engineer, Inria – broad overview of machine learning technologies. Helps me that the slides are in English.