I've always thought the idea of "data science" was pretty exciting. But what is it, how should organizations proceed when they want to hire "data scientists," and what's the potential here?
Clearly, data science is intimately associated with Big Data. Modern semiconductor and computer technology make possible rich harvests of "bits" and "bytes," stored in vast server farms. Almost every personal interaction can be monitored, recorded, and stored for some possibly fiendish future use, along with what you might call "demographics." Who are you? Where do you live? Who are your neighbors and friends? Where do you work? How much money do you make? What are your interests, and what websites do you browse? And so forth.
As Edward Snowden and others point out, there is a dark side. It's possible, for example, all phone conversations are captured as data flows and stored somewhere in Utah for future analysis by intrepid…yes, that's right…data scientists.
In any case, the opportunities for using all this data to influence buying decisions, decide how to proceed in business, to develop systems to "nudge" people to do the right thing (stop smoking, lose weight), and, as I have recently discovered – do good, are vast and growing. And I have not even mentioned the exploding genetics data from DNA arrays and its mobilization to, for example, target cancer treatment.
The growing body of methods and procedures to make sense of this extensive and disparate data is properly called "data science." It's the blind man and the elephant problem. You have thousands or millions of rows of cases, perhaps with thousands or even millions of columns representing measurable variables. How do you organize a search to find key patterns which are going to tell your sponsors how to do what they do better?
Hiring a Data Scientist
Companies wanting to "get ahead of the curve" are hiring data scientists – from positions as illustrious and mysterious as Chief Data Scientist to operators in what are almost now data sweatshops.
But how do you hire a data scientist if universities are not granting that degree yet, and may even be short courses on "data science?"
I found a terrific article – How to Consistently Hire Remarkable Data Scientists.
It cites Drew Conway's data science Venn Diagram suggesting where data science falls in these intersecting areas of knowledge and expertise.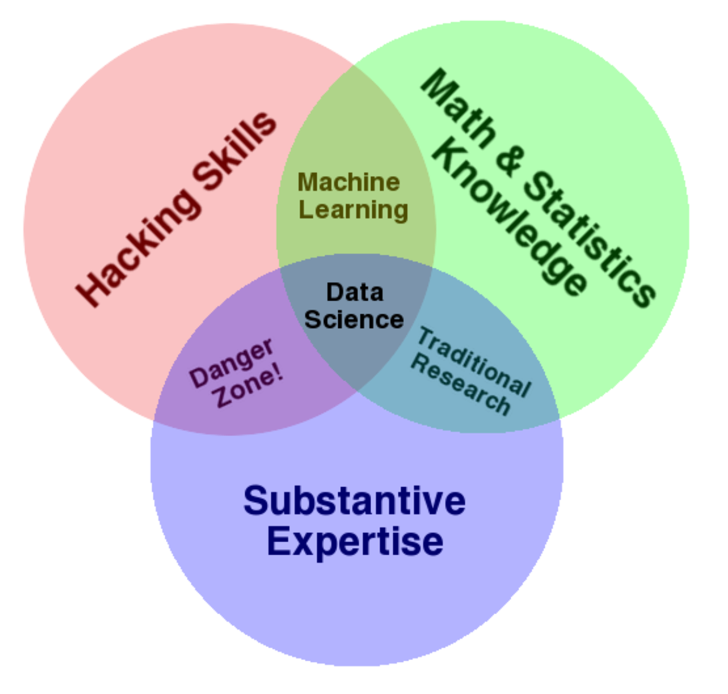 This article, which I first found in a snappy new compilation Data Elixir also highlights methods used by Alan Turing to recruit talent at Benchley.
In the movie The Imitation Game, Alan Turing's management skills nearly derail the British counter-intelligence effort to crack the German Enigma encryption machine. By the time he realized he needed help, he'd already alienated the team at Bletchley Park. However, in a moment of brilliance characteristic of the famed computer scientist, Turing developed a radically different way to recruit new team members.
To build out his team, Turing begins his search for new talent by publishing a crossword puzzle in The London Daily Telegraph inviting anyone who could complete the puzzle in less than 12 minutes to apply for a mystery position. Successful candidates were assembled in a room and given a timed test that challenged their mathematical and problem solving skills in a controlled environment. At the end of this test, Turing made offers to two out of around 30 candidates who performed best.
In any case, the recommendation is a six step process to replace the traditional job interview –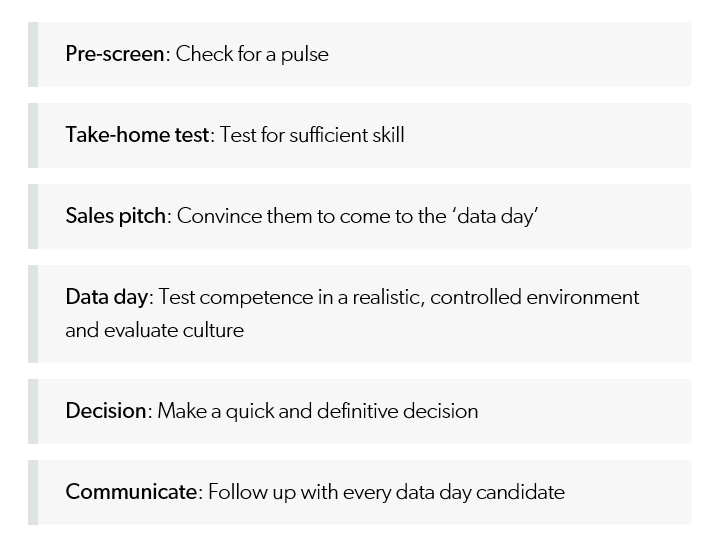 Doing Good With Data Science
Drew Conway, the author of the Venn Diagram shown above, is associated with a new kind of data company called Data Kind.
Here's an entertaining video of Conway, an excellent presenter, discussing Big Data as a movement and as something which can be used for social good.
For additional detail see http://venturebeat.com/2014/08/21/datakinds-benevolent-data-science-projects-arrive-in-5-more-cities/