Online retail or ecommerce is growing at three times the rate of retails sales generally (15 percent compared with 5 percent). And within online sales, mobile ecommerce is rocketing ahead by growth rates on the order of 25 percent per year in the US. Are these faster growing elements complementary to or cannibalizing conventional retail sales?
First, some stores – such as Blockbuster, Movie Gallery, Borders, and stores selling records and CD's – are clearly casualties of Internet competition.
Other brick-and-mortar operations are following a multi-channel strategy, opening up online sales divisions parallel and in addition to their stores with goods on the shelves.
But the handwriting may be on the wall.
For one thing, in the 2013 holiday season, U.S. retailers saw approximately half the holiday foot traffic they experienced just three years ago.
And some of the foot traffic in brick-and-mortar stores is "showrooming" with practices highlighted in this infographic from Adweek (click to enlarge).

And it's significant a pure-play ecommerce provider like Amazon has risen to one of the ten largest retailers in the United States, with 2013 sales of $44 billion.
While Amazon is still back in the pack (see Table below), its annual growth rate is unsurpassed.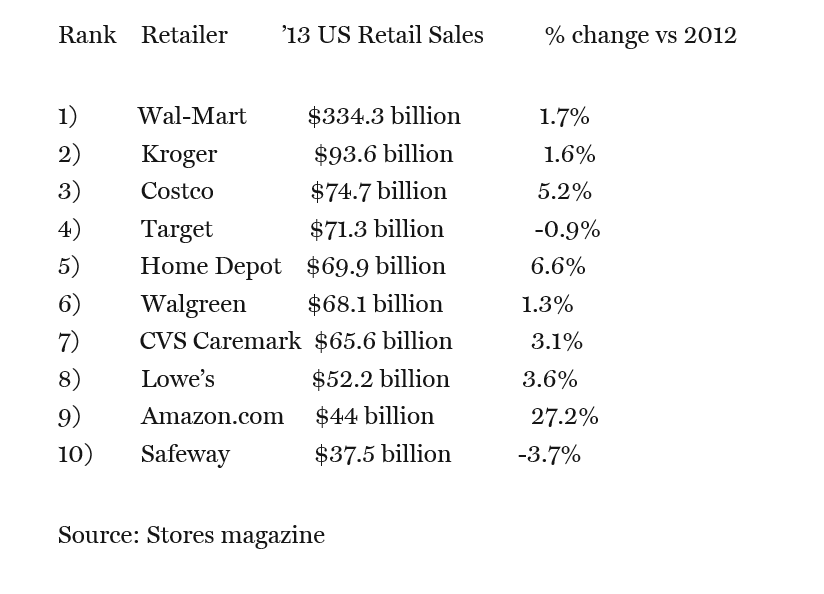 Bottom line – the "fulfillment center" may become a growing trend.
People like to see the product, especially if it is a larger ticket item.
Interestingly, Amazon is now opening fulfillment centers in key urban markets. Other formerly brick-and-mortar stores may repurpose some of their floor area to warehousing and fulfillment of customer orders.
Recognize, however, that we're talking about $3-4 trillion in retail sales in the US, and the game on the ground is likely to change relatively slowly – over five or ten years.