PredPol markets a crime prediction system tested in and currently used by Los Angeles, CA and Seattle, WA, and under evaluation elsewhere (London, UK). The product takes historic statistics and generates real-time predictions of where new crimes are likely to occur – within highly localized areas.
The spec sheet calls it "cloud-based, easy-to-use" software, offering this basic description.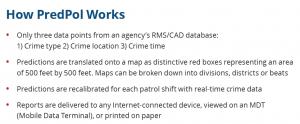 This has generated lots of press and TV coverage.
In July 2013, there was a thoughtful article in the Economist Don't even think about it and a piece on National Public Radio (NPR).
A YouTube video features a contribution from one of the company founders – Jeffrey Brantingham.
From what I glean, PredPol takes the idea of crime hotspots a step further, identifying behavioral patterns in burglaries and other property crimes – such as the higher probability of a repeat break-in, or increased probability of a break-in to a neighbor of a house that has been burglarized. Transportation access to and egress from crime sites is also important to criminals – the easier, the better.
The proof is in the pudding. And there have been reductions in property crime in locales where the PredPol system is being applied, although not necessarily increases in arrests. The rationale is that sending additional patrols into the targeted areas deters criminals.
Maybe some of these would-be criminals go elsewhere to rob and steal, but others may simply be deterred, given the criminal mind is at least partly motivated by sheer laziness.
Criticism of PredPol
I can think of several potential flaws.
Analytically, there have to be dynamic effects from the success of PredPol in any locale. If successful, in other words, the algorithm will change the crime pattern, and then what?
Also, there is a risk of sort of fooling oneself, if the lower crime stats are taken as evidence that the software is effective. Maybe crimes would have decreased anyway.
And there are constitutional issues, if police simply stop people to prevent their committing a crime before it has happened, based on the predictions of the software.
Last November, some of the first critical articles about PredPol came out, motivated in part by a SFWeekly article All Tomorrow's Crimes: The Future of Policing Looks a Lot Like Good Branding
In the meantime, PredPol seems destined for wide application in larger urban areas, and is surely has some of the best PR of any implementation of Big Data and predictive analytics.