Forecasting and data analytics increasingly are recognized as valued partners in nonconventional oil and gas production.
Fracking and US Oil/Gas Production
"Video Friday" here presented a YouTube with Brian Ellis – a Michigan University engineer – discussing hydraulic fracturing and horizontal drilling ("fracking").

Fracking produced the hockey stick at the end of this series.
These new technologies also are responsible for a bonanza of natural gas, so much that it often has nowhere to go – given the limited pipeline infrastructure and LNG processing facilities.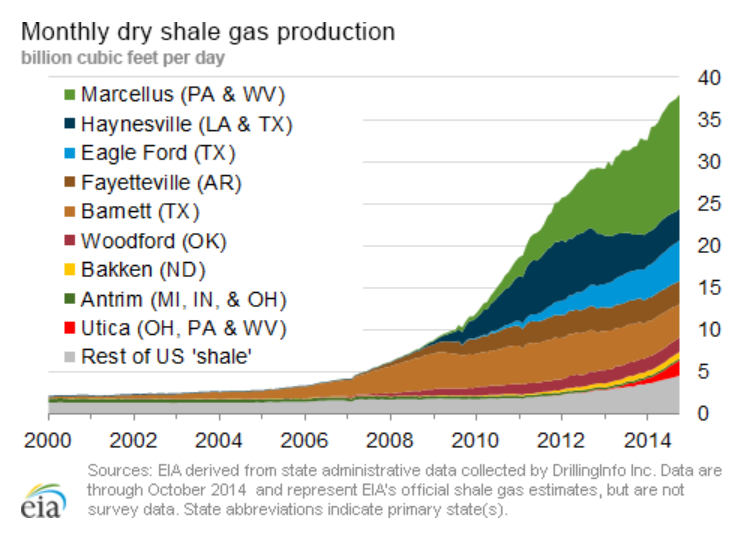 Rapid Decline Curves for Fracking Oil and Gas
In contrast to conventional wells, hydraulic fracturing and horizontal drilling ("fracking") produces oil and gas wells with rapid decline curves.
Here's an illustration from the Penn State Department of Energy and Mineral Engineering site,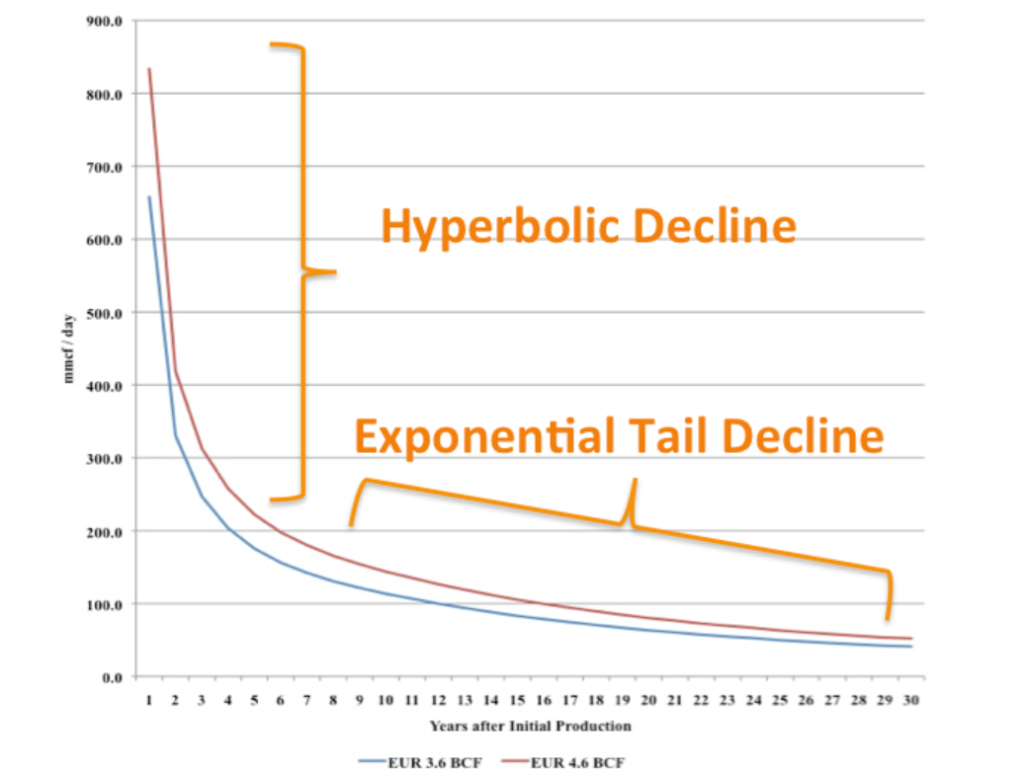 The two legends at the bottom refer to EUR's– estimated ultimate recovery times (click to enlarge).
Conventional oil fields typically have decline rates on the order of 5 percent per year.
Shale oil and gas wells, on the other hand, may produce 50 percent or more of their total EUR in their first year of operation.
There are physical science fundamentals behind this, explained, for example, in
Decline and depletion rates of oil production: a comprehensive investigation
You can talk, for example, of shale production being characterized by a Transient Flow Period followed by Boundary Dominated Flow (BDF).
And these rapid decline rates have received a lot of recent attention in the media:
Could The 'Shale Oil Miracle' Be Just A Pipe Dream?
Wells That Fizzle Are a 'Potential Show Stopper' for the Shale Boom
Is the U.S. Shale Boom Going Bust?
Forecasting and Data Analytics
One forecasting problem in this context, therefore, is simply to take histories from wells and forecast their EUR's.
Increasingly, software solutions are applying automatic fitting methods to well data to derive decline curves and other shale oil and gas field parameters.
Here is an interesting product called Value Navigator.
This whole subject is developing rapidly, and huge changes in the US industry are expected, if oil and gas prices continue below $60 a barrel and $4 MMBtu.
The forecasting problem may shift from well and oil field optimization to evaluation of the wider consequences of recent funding of the shale oil and gas boom. But, again, the analytics are available to do this, to a large extent, and I want to post up some of what I have discovered in this regard.