Here's a forecasting controversy that has analysts in the Kremlin, Beijing, Venezuela, and certainly in the US environmental community taking note.
May 21st, Reuters ran a story UPDATE 2-U.S. EIA cuts recoverable Monterey shale oil estimate by 96 pct from 15.4 billion to 600 million barrels.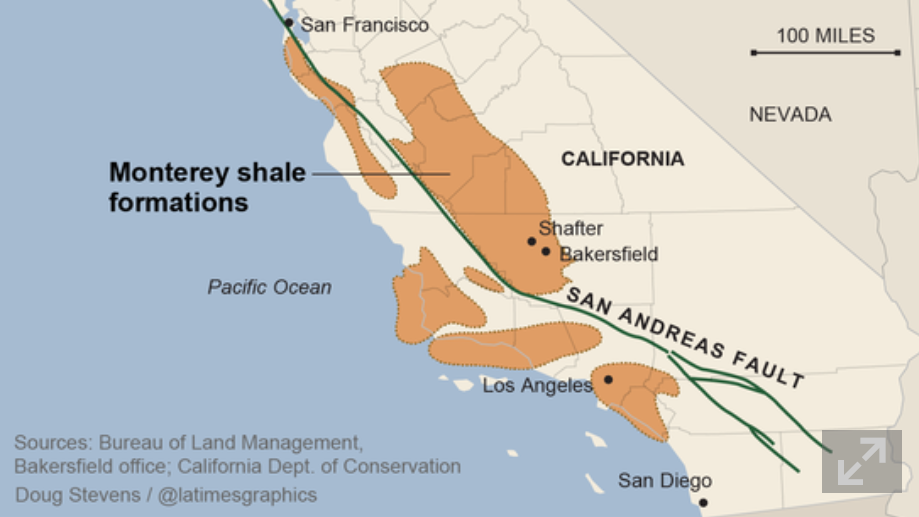 The next day the Guardian took up the thread with Write-down of two-thirds of US shale oil explodes fracking myth. This article took a hammer to findings of a USC March 2013 study which claimed huge economic benefits for California pursuing advanced extraction technologies in the Monterey Formation (The Monterey Shale & California's Economic Future).
But wait. Every year the US Energy Information Agency (EIA) releases its Annual Energy Outlook about this time of the year.
Strangely, the just-released Annual Energy Outlook 2014 With Projections to 2014 do not show any cutback in shale oil production projections.
Quite the contrary –
The downgrade [did] not impact near term production in the Monterey, estimates of which have increased to 57,000 barrels per day on average between 2010 and 2040.. Last year's estimate for 2010 to 2040 was 14,000 barrels per day.
The head of the EIA, Adam Sieminski, in emails with industry sources, emphasizes Technically Recoverable Reserves (TRR) are not (somehow) not linked with estimates of actual production.
At the same time, some claim the boom is actually a bubble.
What's the bottom line here?
It's going to take a deep dive into documents. The 2014 Energy Outlook is 269 pages long, and it's probably necessary to dig into several years reports. I'm hoping someone has done this. But I want to followup on this story.
How did the Monterey Formation reserve estimates get so overblown? How can taking such a huge volume of reserves out of the immediate future not affect production estimates for the next decade or two? What is the typical accuracy of the EIA energy projections anyway?
According to the EIA, the US will briefly – for a decade or two – be energy independent, because of shale oil and other nonstandard fossil fuel sources. This looms even larger with geopolitical developments in Crimea, the Ukraine, Europe's dependence on Russian natural gas supplies, and the recently concluded agreements between Russia and China.
It's a great example of how politics can enter into forecasting, or vice versa.
Coming Attractions
While shale/fracking and the global geopolitics of natural gas are hot stories, there is a lot more to the topic of energy forecasting.
Electric power planning is a rich source of challenges for forecasting – from short term load forecasts identifying seasonal patterns of usage. Real innovation can be found here.
And what about peak oil? Was that just another temporary delusion in the energy futures discussion?
I hope to put up posts on these sorts of questions in coming days.