Here is a real goldmine of research on forecasting.
IDEAS! is a RePEc service hosted by the Research Division of the Federal Reserve Bank of St. Louis.
This website compiles rankings on authors who have registered with the RePEc Author Service, institutions listed on EDIRC, bibliographic data collected by RePEc, citation analysis performed by CitEc and popularity data compiled by LogEc – under the category of forecasting.
Here is a list of the top fifteen of the top 10% institutions in the field of forecasting, according to IDEAS!. The institutions are scored based on a weighted sum of all authors affiliated with the respective institutions (click to enlarge).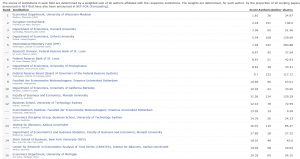 The Economics Department of the University of Wisconsin, the #1 institution, lists 36 researchers who claim affiliation and whose papers are listed under the category forecasting in IDEAS!.
The same IDEAS! Webpage also lists the top 10% authors in the field of forecasting. I extract the top 20 of this list here below. If you click through on an author, you can see their list of publications, many of which often are available as PDF downloads.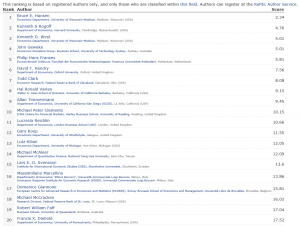 This is a good place to start in updating your knowledge and understanding of current thinking and contextual issues relating to forecasting.
The Applied Perspective
For an applied forecasting perspective, there is Bloomberg with this fairly recent video on several top economic forecasters providing services to business and investors.
I believe Bloomberg will release extensive, updated lists of top forecasters by country, based on a two year perspective, in a few weeks.