It's essentially illegal to short a stock in China today.
This developed in response to the more than 40  percent drop in market value  of most stocks– as in the chart for Shenzhen Index B shown below.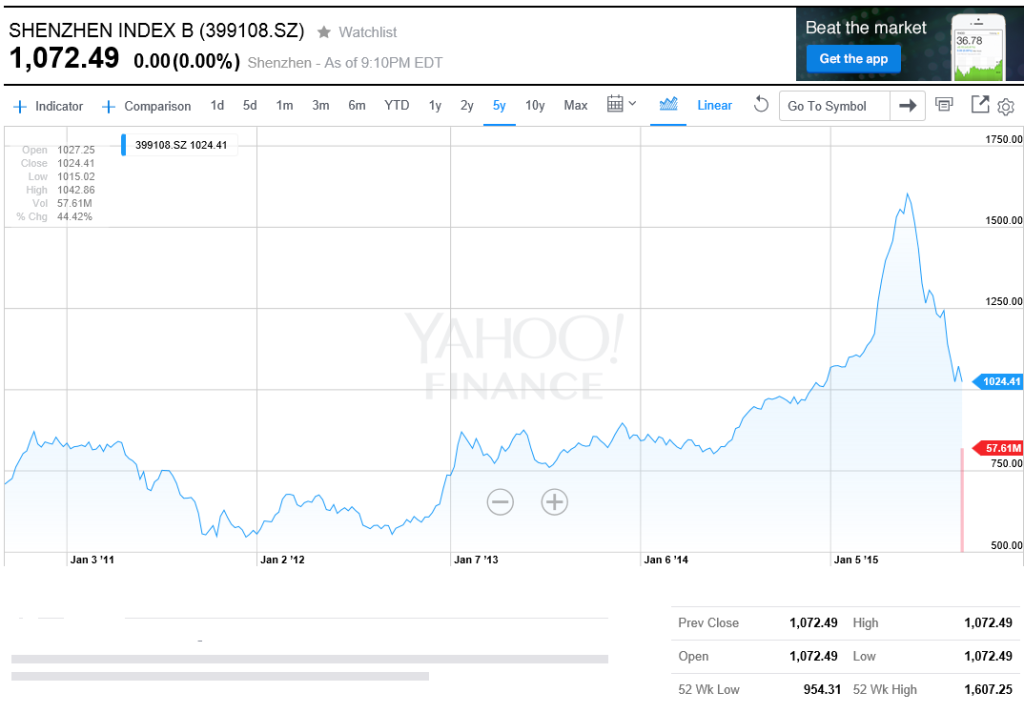 B shares (Chinese: B股, officially Domestically Listed Foreign Investment Shares) on the Shanghai and Shenzhen stock exchanges refers to those that are traded in foreign currencies. Shares that are traded on the two mainland Chinese stock exchanges in Renminbi, the currency in mainland China, are called A shares.
China Seen Delaying Shenzhen Stock Link Until 2016 Amid Turmoil
Chinese authorities have gone to extreme lengths to prop up the stock market as both the Shanghai Composite Index and the Shenzhen Composite Index lost more than 40 percent from their June highs. They've banned major shareholders from selling stakes, armed a state-run margin trader with billions of dollars to buy equities, allowed hundreds of companies to halt their shares and placed curbs on bearish bets in the futures market.
One casualty has been the World's Biggest Stock-Index Futures Market
Volumes in the country's CSI 300 Index and CSI 500 Index futures sank to record lows on Wednesday after falling 99 percent from their June highs. Ranked by the World Federation of Exchanges as the most active market for index futures as recently as July, liquidity in China has dried up as authorities raised margin requirements, tightened position limits and started a police probe into bearish wagers.
China's Response to Stock Plunge Rattles Traders
A business journalist has been detained and shown apologizing on national television for writing an article that could have hurt the market.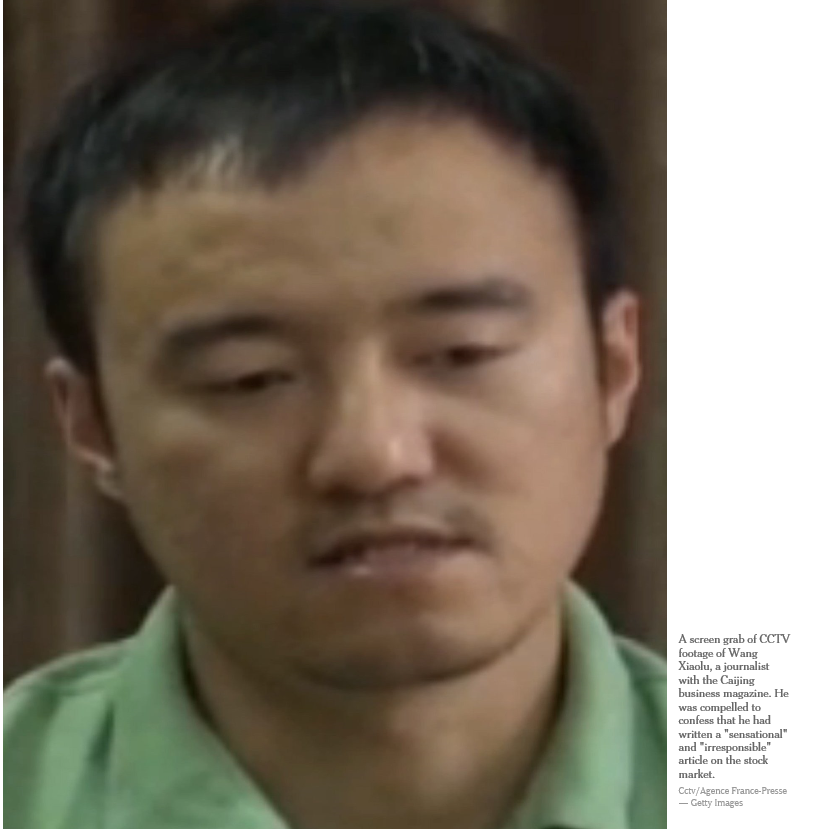 Apparently, the beatings will continue until morale improves.
The spectacle of Wang Xiaolu, reporter at a Chinese business publication, enacting Monday what authorities called a confession of spreading "panic and disorder" in the stock market through his reporting should scare investors.
The announcement Sunday by China's Ministry of Public Security that 197 people had been punished for spreading rumors about stocks and other issues should scare investors.
That the head of hedge fund manager Man Group Plc's China unit has been taken into custody, as reported by Bloomberg on Monday, should scare global investors.
This is not to say that China isn't capable of browbeating and arm-twisting and public money spending its way to a higher stock market. China asked brokerages to increase their support of a market rescue fund by 100 billion yuan last week, according to reports, a move perhaps tied to a desire for a rally, or at least stability, ahead of Thursday's parade commemorating victory over Japan…….
They do know that a huge country is scared so badly of something that they will not, cannot, allow things to be said that cause stocks to fall.
Reflections
These strong-arm tactics go beyond anything seen in the West, in terms of damage control. Transparency,  an key feature in financial analysis, has been thrown out the window. With Goons going around bullying people to hold stocks that have lost 40 percent of their value, pressing journalists to keep quiet about problems in the market, it is a strange world in Chinese finance and stocks. People "disappear" – no record of arrest being announced.
There is no question but that Chinese macroeconomic statistics must also be viewed in a more skeptical light.
This makes assessment of the Chinese slowdown more difficult.