There are a number of free, publically available macroeconomic forecast resources which have standing and a long track record.
Also, investment and other banks make partial releases of their macro projections.
IMF World Economic Outlook
The International Monetary Fund (IMF) revises its World Economic Outlook (WEO) toward the end of each year, this year in October with Legacies, Clouds, Uncertainties.
One advantage is comprehensive coverage. So there are WEO projections over 1, 2 and 3 year horizons for more than 100 countries, even obscure island principalities, and for dozens of variables, including GDP variously measured, inflation, imports and exports, unemployment rate, and population.
Here are highlights of the October revision (click to enlarge).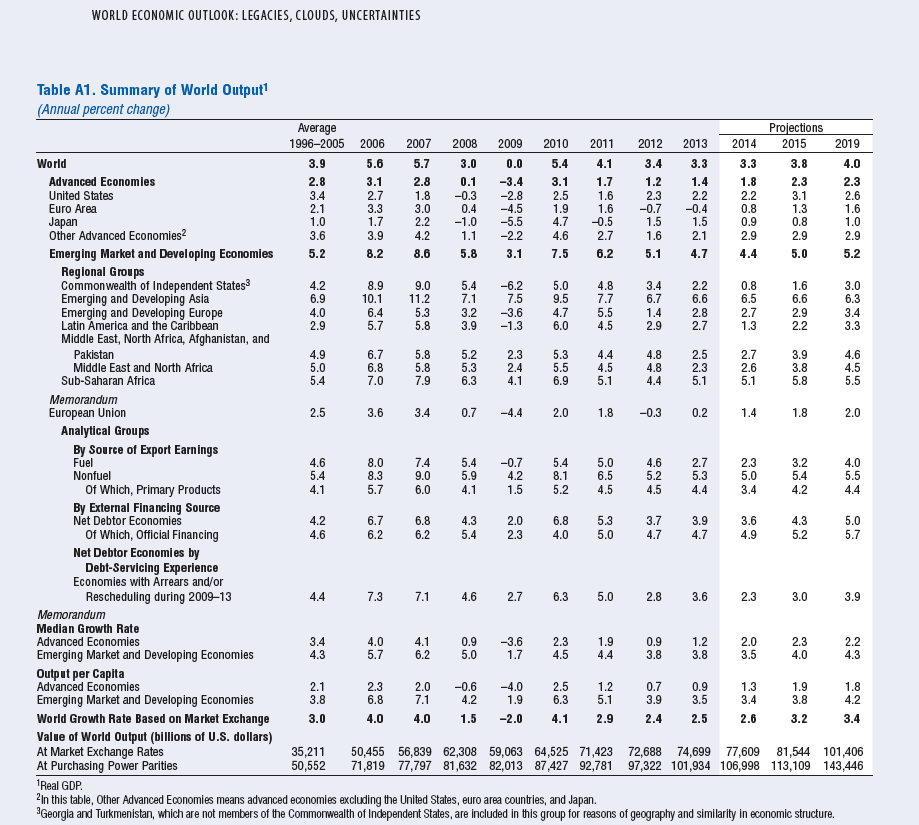 Largely due to weaker-than-expected global activity in the first half of 2014, the growth forecast for the world economy has been revised downward to 3.3 percent for this year, 0.4 percentage point lower than in the April 2014 World Economic Outlook (WEO). The global growth projection for 2015 was lowered to 3.8 percent.
The global recovery continues to be uneven, with some countries and areas struggling, while others move forward into growth.
Downside risks are increasing and include –
SHORT TERM: worsening geopolitical tensions (Ukraine, Syria) and reversal of recent risk spread and volatility compression in financial markets
MEDIUM TERM: stagnation and low potential growth in advanced economies (Eurozone flirting with deflation) and a decline in potential growth in emerging markets
Organization of Economic Cooperation and Development (OECD) Projections
The OECD Economic Outlook Advance Release for the G-20 from October 2014 projects the following growth rates for 2014 and 2015 (click to enlarge).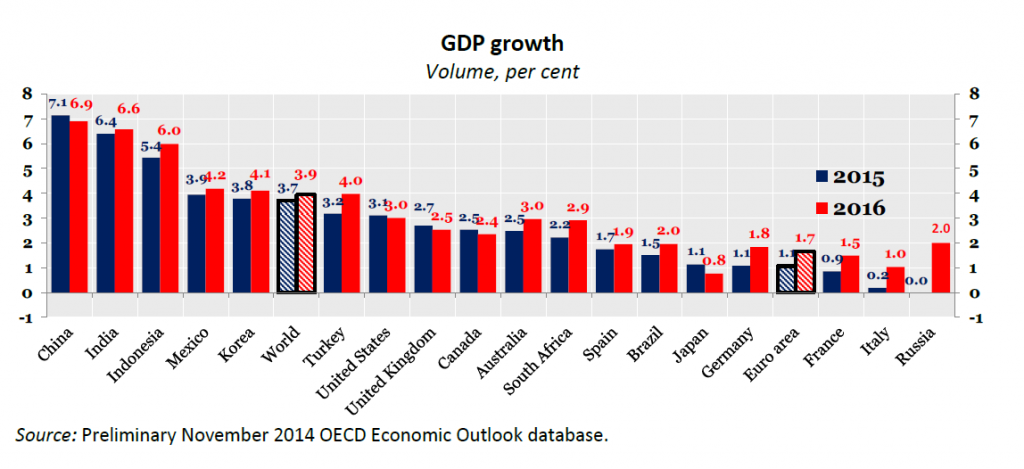 For total global GDP growth, the OECD projects 3.3 percent for 2014 and 3.7 percent for 2015 or 0.1 percent less for 2015 than the IMF.
Chinese economic growth is ratcheting down from double-digit levels several years ago, to around 7 percent, while Indian GDP growth is projected to stay in the 6 percent range.
There are significant differences in the IMF and OECD forecasts for the United States.
Survey of Professional Forecasters
The Survey of Professional Forecasters (SPF) is another publically available set of macroeconomic forecasts, but focusing on the US economy. The SPF is maintained by the Philadelphia Federal Reserve Bank, which polls participating analysts quarterly, compiling consensus results, spreads, and distributions.
The latest SPF Survey was released August 2014, and is somewhat more optimistic about US economic growth than the IMF and OECD projections.
Investment Bank Data and Projections
Wells Fargo Securities Economics Group produces a monthly report with detailed quarterly forecasts for the US economy. Here is a sample from August 2014 (click to enlarge).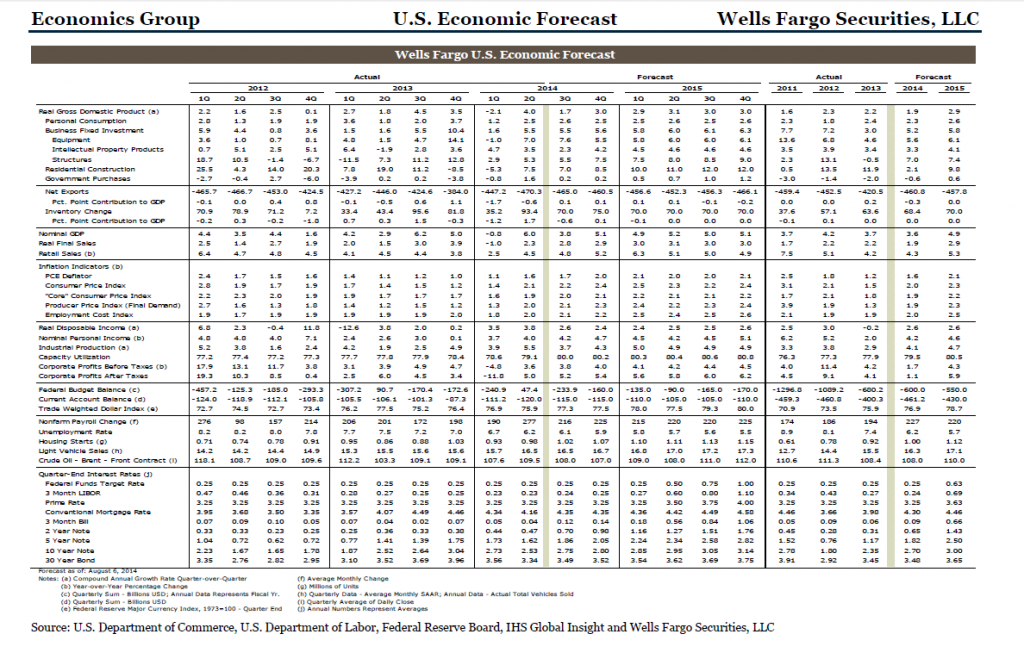 I'm compiling a list of these products and their availability.
The bottom line is there are plenty of forecasts to average together to gin up high likelihood numbers to plug into sales and other business forecast models.
At the same time, there is a problem with calling turning points in almost all these products.
This is not a problem on YouTube now, though. If you search "economic forecasts 2015" on YouTube today, you will see a lengthly list of predictions of economic collapse and market catastrophe by the likes of Jim Rogers, Gerald Calente, and others who dabble in this genre.
We need something like the canary in the coal mine.